NEXCOM 1U network security appliance NSA 3170 series provides elastic performance for small and medium-sized businesses (SMBs) to impose security measures at discretion. Featuring scalable computing performance, expandable network connectivity, and configurable connection performance, the NSA 3170 series can flexibly impose firewall, united threat management (UTM), intrusion detection/protection, and anti-virus protection that serves the security goals of SMB networks.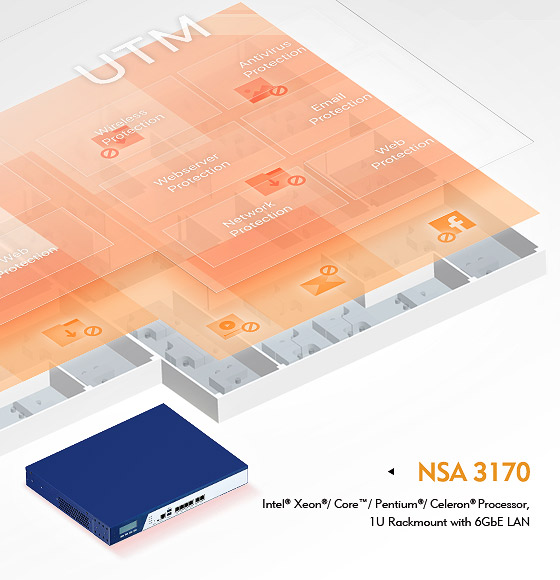 The NSA 3170 series provides scalable computing performance with an extensive selection of Inter® Xeon®, Core™, Pentium®, and Celeron® processors. Available with up to four computing cores, a clock rate of 3.9 GHz and 4.2 GHz with Intel® Turbo Boost Technology, and 32 GB of DDR4 2400 ECC memory, the NSA 3170 series is capable of executing tight and/or moderate security policies and processing high-volume network traffic at a blazing fast speed. With the NSA 3170 series, SMBs can filter traffic flow and control network access based on including packet type, connection state, and payload without stifling network traffic, striking an efficient balance between network security and productivity.
To support the implementation of network segmentation and segregation, the NSA 3170 series is complemented with a series of LAN modules to allow for LAN expansion. In addition to the default LAN configuration, there are different connection interfaces, connection speeds, and LAN counts that SMBs can choose from. For a network split into numerous subnets according department functions, SMBs can configure a maximum of sixteen LAN ports onto NEXCOM's network security appliance, or gear the appliance with high-speed 10 GbE connections to satisfy the high throughput requirement of busy networks.
Main Features
1U rackmount network platform
Support Intel® Xeon®/ Core™/ Pentium®/ Celeron® processors
Up to 32GB of DDR4 2400 ECC & REG memory
Support one LAN module
Two 2.5" HDD bay (internal)
Single 250 watt PSU
Ordering Information
NSA 3170 (P/N: 10S00317000X0)
Intel® H110 chipset, Intel® Core™/Pentium®/Celeron® processors, 2x DDR4 memory slots, 6GbE copper LAN ports, SATA DOM, USB ports, VGA port, w/o LCM
NSA 3170A (P/N: 10S00317001X0)
Intel® C236 chipset, Intel® Xeon®/Core™/Pentium®/Celeron® processors, 2x DDR4 memory slots, 8GbE copper LAN ports, SATA DOM, USB ports, VGA port, one PCIe x8 expansion slot (front), w/o LCM
LAN Module (PCIe x8)
| | | | | |
| --- | --- | --- | --- | --- |
| Model | P/N | Controller | Port Number | Bypass/Segment |
| NX 140F | 10S20140F01X0 | XL710-BM1 | 4 SFP+ | None |
| NX 142F | 10S20142F01X0 | XL710-BM1 | 4 SFP+ | 2 bypass |
| NX 142F-LR | 10S20142F03X0 | XL710-BM1 | 4 SFP+ | 2 bypass |
| NX 120F | 10S20120F00X0 | X710-BM2 | 2 SFP+ | None |
| NI 140F | 10SK000NI02X0 | i350AM4x1 | 4 SFP | None |
| NI 180F | 10S10180F01X0 | i350AM4x2 | 8 SFP | None |
| NI 142C | 10SK000NI03X0 | i350AM4x1 | 4 Copper | 2 bypass |
| NI 180C | 10S10180C01X0 | i350AM4x2 | 8 Copper | None |
| NI 184C | 10S10184C01X0 | i350AM4x2 | 8 Copper | 4 bypass |
| NI 142F | 10S10142F01X0 | i350AM4x1 | 4 SFP | 2 bypass |
| NI 121F | 10S10121F01X0 | i350AM2x1 | 2 SFP | 1 bypass |
| NI 140C | 10S10140C01X0 | i350AM4x1 | 4 Copper | None |