NEXCOM iNAS 330 offers a turnkey industrial storage solution to simplify data storage management in hostile field environments. Featuring a graphical webtop operating system (OS), Atlas, the iNAS 330 blends industrial-grade ruggedness and consumer-grade usability into a user-friendly network-attached storage (NAS) system. The iNAS 330 delivers data resilience, integrity, and manageability and curbs the complexity of NAS administration and operation monitoring, helping retain data for the manufacturing and industrial sectors including transport, energy, and more.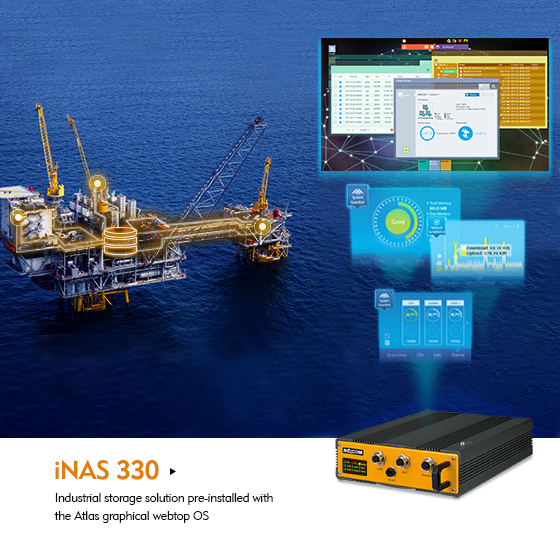 "An awkward user interface can frustrate IT administrators, let alone field technicians lacking IT expertise, making NAS management a burdensome task. To help users complete tasks faster regardless of their IT literacy level, the Atlas is designed with a graphical user interface (GUI) for intuitive operation. Users can expect to deploy, administer, and monitor NAS systems with ease, ensuring data collection in oil rigs, public transit systems, and industrial facilities," said Hadwin Liu, Chief Architect of NEXCOM Network and Communication Solutions Business Group.
The iNAS 330 is a robust industrial storage solution for data-critical application. The solution supports volume management and convenient browsing of files and folders. To assure data availability, the solution features high fault tolerance with the support for RAID 5 data redundancy and enables data to be restored in a hard drive failure scenario. As to preventing data loss during the transmission, connection failover can maintain uninterrupted data transfer while doubling the network throughput with the setup of link aggregation. To handle sensitive data, iNAS 330 can strength data security by encrypting network traffic and verifying the identity of remote visitors with SSL certificates.
All these settings can be found in Atlas, a user-friendly webtop OS which is easy to navigate with a GUI. To facilitate general IT administrative tasks, all system settings can be configured on a navigation panel for quick system setup, modification, and restore. Meanwhile unwanted changes can be avoided by restricting the access to privileged users, and a dedicated management port serves to block suspicious management commands to secure the industrial storage solution from being tampered with.
To provide quick access to applications and system information, desktop shortcuts and dashboard widgets allows users to visualize and monitor the status of system and volume health, network throughput and connections, and system events. Although embedded in a web browser, application windows can be resized and widgets arranged to allow users to grasp system status and operation at a glance.
The IP54-rated iNAS 330 can withstand vibrations and shocks, temperature extremes from -40 to 70 degrees Celsius, and water and dust ingress. The EN 61373 and EN 50155-compliant iNAS 330 is suited for railway applications.
Main Features
Pre-installed Atlas OS with GUI
Support RAID 1/5 and JBOD
Data availability with connection failover
SSL security and access control
Enhanced reliability with EN50155, EN61373, and IP54 compliance and extended temperature range
Ordering Information
iNAS 330 (P/N:101G0033000X0)
Rugged industry storage (3 years service & maintenance)