NEXCOM NDiS B537 digital signage player delivers an engaging digital approach to customers while revamping the management of quick service restaurants (QSRs). Featuring 7th generation Intel® Core™ processor, the digital signage player captivates consumers in a truly personalized and memorable experience, representing an all-round technology for QSRs to stay ahead with rapid innovation.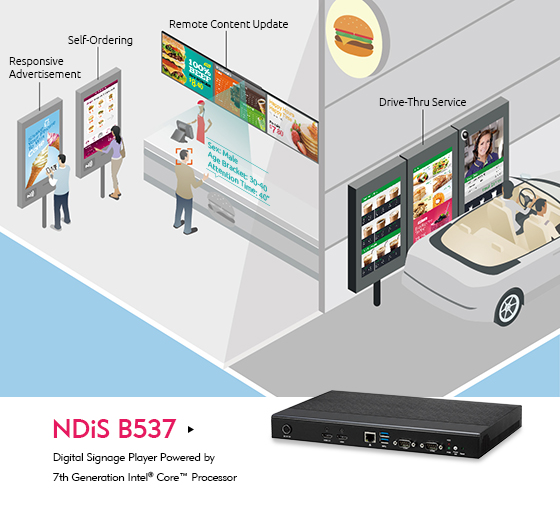 To create an enriching experience for customers, the NDiS B537 offers high computing power and built-in Intel® HD Graphics to handle digital menus boards, self-ordering and self-checkout kiosks, drive-thru services, and personalized infotainment commonly found in QSRs. It shows promotions and campaigns catching consumers' interest, while in the background, its interfaces gather data to create profiles in order to serve better. Moreover, the compact and slim design with extended durability can easily fit in any casing to satisfy different QSR applications.
A fully gratifying in-store experience is provided through digital menu boards and self-ordering kiosks. The 4K video and graphics capability of the NDiS B537 allows digital menu boards not only to advertise offerings or incorporate striking videos but also to facilitate instant updates of products, prices and promotions for operators. Self-ordering kiosks can serve more customers avoiding long waiting lines. It displays eye-catching responsive advertisement about new menu items to grab the consumers' attention. Then, the NDiS B537 offers personalized recommendations based on gender and age range and assists with payment.
The digital signage player boosts sales by improving the whole drive-thru experience in QSRs. When installed in a drive-thru kiosk, it displays the available menu suggesting daily deals, upgrades and the chance of customization right before accepting payments and emitting receipts. This complete digital experience captivates and creates positive long lasting impressions in people, lifting brands higher.
Main Features
7th generation Intel® Core™ processor
Dual SO-DIMM sockets for up to 32GB of DDR4 memory
Support HDMI 2.0 output (4K/2K/60Hz support)
Support up to three display outputs
Fanless, compact, slim design (H: 33mm)
NGFF/ mini-PCIe slot support Wi-Fi and 4G module
Ordering Information
NDiS B537 (P/N: 10W00B53700X0)
7th generation Intel® Core™ processor slim and fanless system