NEXCOM has released Xcare™ 3.0, a remote management utility, to help system integrators (SIs) develop a remote management tool with less time and effort. The Xcare™ 3.0 integrates Embedded Application Programming Interface (EAPI), Device Client and Remote Console. The Xcare™ 3.0 provides a unified platform to monitor and control up to 36 NEXCOM embedded computers. Based on the Xcare™ , SIs can easily come up with a remote management tool to help the client carry out proactive maintenance and therefore ensure optimal operation of NEXCOM computers all the time.

To simplify development of remote management tool, the Xcare™ 3.0 EAPI offers a comprehensive control library. The Xcare™ 3.0 EAPI combines system temperature, CPU temperature, operating voltage and HDD health into a single interface, sparing SIs time and effort to collect these key system indicators. In addition, the Xcare™ 3.0 EAPI follows PICMG standards and allows remote management tools to upgrade seamlessly in line with Xcare™ . As a result, the Xcare™ 3.0 EAPI can hasten the development of remote management tool, giving rise to easy-to-manage intelligent systems.

NEXCOM Xcare™ 3.0 enables users to access system status either on the field site with "Device Client" or at a distance with "Remote Console." With functions including remote desktop, system restore and system configuration, the Remote Console allows users to monitor and control thirty six embedded computers simultaneously, bringing computer glitch's to the users' attention, allowing action to be taken and therefore avoiding system failure.

NEXCOM Xcare™ 3.0 is compatible with Windows Embedded 8/7/XP and is available on NEXCOM embedded computer's NISE 3600, NISE 3500, NISE 2110 and NISE 104 as well as NEXCOM's panel PC's the APPC 1235T and the APPC 1930T, to name a few. For more NEXCOM models, please contact a sales representative.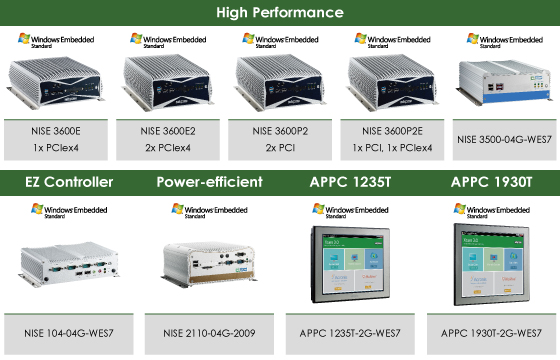 Ordering Information
NISE 3600E (P/N: 10J00360000X0) RoHS Compliant
3rd Generation Intel® Core™ i5/i3 Fanless System with one PCIex4 Expansion
NISE3600E2 (P/N: 10J00360001X2) RoHS Compliant
3rd Generation Intel® Core™ i5/i3 Fanless System with two PCIex4 Expansions
NISE3600P2 (P/N: 10J00360002X0) RoHS Compliant
3rd Generation Intel® Core™ i5/i3 Fanless System with two PCI Expansions
NISE3600P2E (P/N: 10J00360003X0) RoHS Compliant
3rd Generation Intel® Core™ i5/i3 Fanless System with one PCI and one PCIex4 Expansions
NISE 3500 (P/N: 10J00350000X0) RoHS Compliant
Intel® Core™ i7/i5 Fanless System with one PCI Expansion Slot
NISE 2110 (P/N: 10J00211000X0)
Intel® Atom™ D525 fanless barebone system with DDR3 SO-DIMM Socket and one PCI expansion
NISE 104 (P/N: 10J00010400X2)
Intel® Atom™ Dual Core D2550 fanless system
APPC 1235T (P/N: 10IA1235T00X0)
12.1" XGA LED Backlight Touch Panel PC, Intel® Atom™ D2550 1.86GHz, touch screen, 1GB DDR3, 2x RS232/422/485
APPC 1930T (P/N: 10IA1930T00X0)
19" SXGA LED Backlight Touch Panel PC, Intel® Atom™ D2550 1.86GHz, touch screen, 1GB DDR3, 2x RS232/422/485