NEXCOM has released the industrial Wi-Fi access point IWF 2220 to address the need for real-time data access across light industrial environments. The dual band dual RF IWF 2220 offers two 300 Mbps connections and has high transmission power to provide almost four times the network coverage. Paired with NEXCOM WLAN controller, the
IWF 2220 can further extend the coverage of industrial Wi-Fi networks, increasing moving range of connected clients. The
IWF 2220 can therefore help keep up-to-the-minute track of inventory, incoming quality control status, production orders across warehouses, quality inspection areas, production lines and more.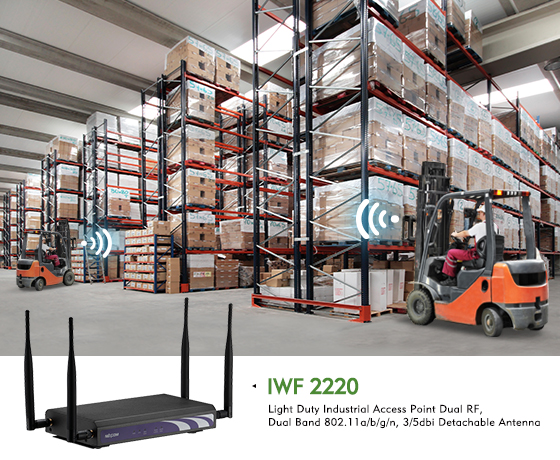 NEXCOM IWF 2220 has two RF channels, each supporting 2.4 GHz and 5 GHz clients and running at the speed of 300 Mbps. The IWF 2220 is equipped with four 20 dBm radios which can transmit the amplified signals nearly four times as far as commonly used SoC-based 15dBm radios. The IWF 2220 also supports Multiple In/Multiple Out (2x2 MIMO) function to increase data throughput. Featuring high network density, wide network coverage and large network capacity, the IWF 2220 can help establish a high-speed highly-reliable industrial Wi-Fi network, allowing more clients to reside on while sidestepping network congestion, signal attenuation and the resulting intermittent connection.

To further extend an industrial Wi-Fi network, the IWF 2220 paired with NEXCOM industrial secure WLAN controller
IWF 8405 can connect multiple Wi-Fi subnets, keeping such as automated guided vehicles and production managers online when moving around warehouses and factories. The combination of IWF 2220 and IWF 8405 also allows for differentiated Wi-Fi access based on 16 sets of ESSIDs and designated user policies to optimize Wi-Fi bandwidth allocation.

Designed for flexible installation, the IWF 2220 supports both PoE and 12VDC power inputs. The PoE can power the
IWF 2220 in the absence of separate power source and simplify the wiring. Nevertheless the 12VDC has a cost advantage when power source is available.
Main Features
Dual RF for IEEE 802.11b/g/n+802.11a/n
Multiple virtual APs for grouping policy/management
2x2 MIMO 2*300Mbps high throughput
High power RF solution @ 24dBm (peak)
WDS and WES for extending wireless coverage
Tunneled AP Management incorporating with NEXCOM controller
Supporting QoS & 802.11e WMM
Industrial-grade operating temperature 0~60°C
Dual power input: 802.3at PoE and 12VDC input
Ordering Information
IWF 2220-EU (P/N: 10T00222000X0)
IWF 2220-US (P/N: 10T00222002X0)