NEXCOM has unveiled NCb-301 and NCb-311, the first 3 megapixel IP cameras in its new surveillance camera lineup. The NCb-301 and NCb-311 features 100dB Wide Dynamic Range imaging (WDR) and Precision/DC Iris control making them perfect for all levels of security monitoring and surveillance applications.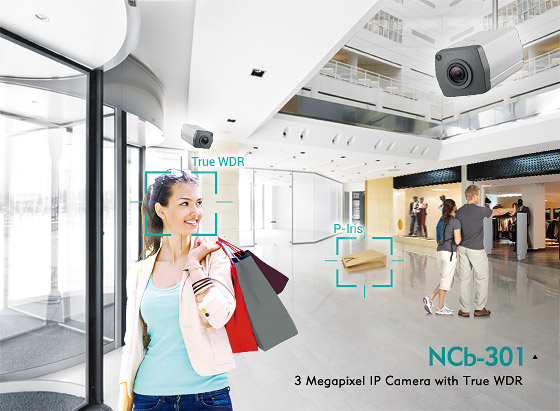 NCb-301 is a high-end megapixel IP camera designed for large-scale surveillance networks. NCb-301 offers 3 megapixel resolution (2048x1536) at full frame rate 30FPS (or 1080p 60FPS). With a motorized 3~10mm varifocal lens, NCb-301 allows security personnel to remotely refocus through the network to expand or to narrow the surveillance area.
To ensure image quality, the NCb-301 offers True WDR and P-Iris functions. This WDR camera can brighten the dark area and darken a specific area in an image, thus optimizing the captured image, for instance, in a basement parking lot with high lighting contrast. In addition, the NCb-301 can sharpen blurry objects spread across in a long supermarket aisle or office corridor, creating realistic images as seen by the eye.
NCb-311 is an entry-level 3 megapixel IP camera which performs 20 FPS (or 1080p 30 FPS) aimed at small shops or independent stores. NCb-311 supports the CS-mount varifocal DC Iris.
Main Features
NCb-301
3MP@30FPS, 1080p@60 FPS
Motorized lens 3-10 mm, F1.4
Advance P-Iris
100dB True WDR
Micro SD card slot
2-way audio
DC12v / AC24v / PoE+ (802.3at)
0°C~60°C operating temperature
NCb-311
3MP@20 FPS, 1080P@30 FPS
C/ CS-mount lens (optional)
DC-Iris
Digital WDR
Micro SD card slot
2-way audio
DC12v / AC24v / PoE+ (802.3at)
0°C~60°C operating temperature
Ordering Information
NCb-301 (P/N: 10HB0030100X0)
NCb-311 (P/N: TBD)