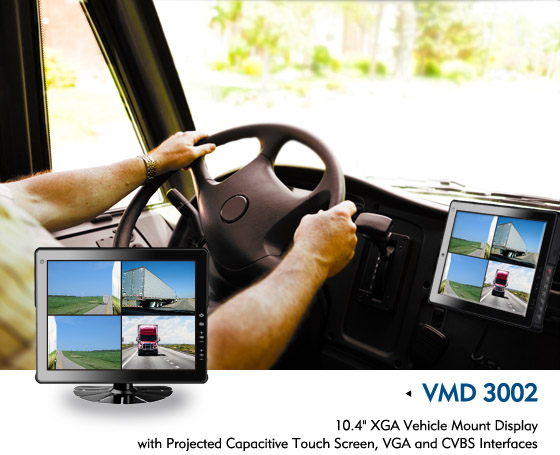 NEXCOM VMD 3002 is a 10.4" multi-touch vehicle mount display, which can help drivers keep an eye on the "blind spot". The VMD 3002 features camera support, enhanced readability under sunlight, and ruggedness to stand up to vigorous daily use. This vehicle mount display can monitor truck loading, prevent load spill, and avoid reverse accidents to help protect environment and improve driver safety.
The 10.4" multi-touch vehicle mount display VMD 3002 incorporates projected capacitive touch panel to provide not only high responsiveness but also high 1024 x 768 resolution. The VMD 3002 has 1000-nit brightness and can automatically adjust screen brightness to help drivers see clearly under strong sunlight or to dim the screen to reduce power consumption in a low lighting condition.
Being more than a display, the VMD 3002 supports two-way audio communication and is equipped with multiple I/Os including CVBS, USB, and COM. The VMD 3002 can provide multi-angle views of vehicle surroundings when configured with cameras and other commercial off-the-shelf (COTS) systems. The VMD 3002 can therefore help drivers keep an eye on the rear side of a truck whilst keeping connected with a dispatcher.
Furthermore, the VMD 3002 is IP65-rated and scratch-resistant. This display can withstand water and dirt ingress and interior washout, increasing its usability in cases where hygiene regulations must be complied with. Also, the VMD 3002 is designed by MIL-STD-810G to ensure effective operation when exposed to vehicle-induced vibration and shock.
All these good features come with one pigtail cable which consolidates power, display input along with other signals cables into one cable, making installation of VMD 3002 easy and fitting into confined installation space.
Main Features
10.4" XGA TFT LCD with 1000cd/m2 brightness
P-Cap touch screen with multi-touch capability
Wide range DC input from 9~36V
Support standard VGA display input
Support four CVBS video inputs for side/rear view camera
Compliant with IP65