To keep up with the latest innovations of transportation technology, be sure to visit NEXCOM's booth #203 in 4.1 hall at InnoTrans 2014. The exhibition takes place from September 23rd to 26th in Berlin, Germany. At InnoTrans, NEXCOM and its partner, DELTA COMPONENTS, will present a wide range of public transportation solutions covering from train surveillance, PIS (Passenger Information System), eBus to train device monitoring.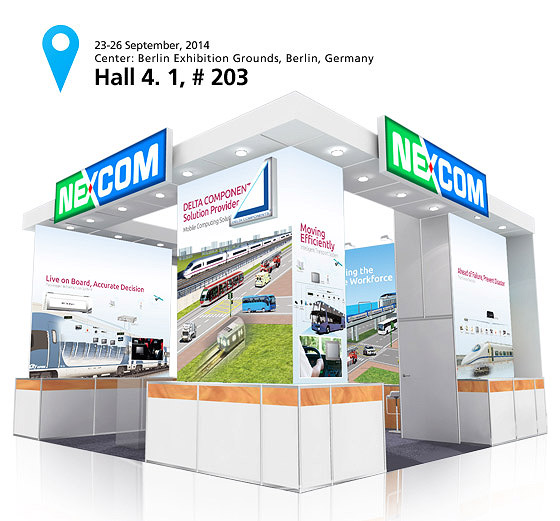 For train surveillance and PIS applications, NEXCOM will demonstrate its latest train computer nROK 5500, which is designed to address the needs of improving passenger infotainment services and safety in the rolling stock market. nROK 5500 comes with large data storage, powerful processor, and multi-path network connections and is fully compliant to the criteria of installation and operation in rolling stock vehicles such as rapid transit system, metropolitan rail, high speed rail and trams. It is the ideal central server platform for providing passenger information, network access service, on-board entertainment, and surveillance in rolling stock applications.
For intelligent eBus solution, NEXCOM will showcase the vehicle mount computer VMC 3001, which combines functions including vehicle tracking and monitoring, real-time passenger information and real-time surveillance for use in bus applications. NEXCOM's vehicle mount computer VMC 3001 can gather, display, transmit and receive information to help increase bus productivity and route efficiency. The most important benefit of NEXCOM eBus solution is that it can provide passengers with bus arrival time information to help them optimize their schedule and have a safe journey.
For train device monitoring, NEXCOM's EN50155 compliant fanless train computer nROK 3000 is designed to provide the solid foundation for a wide range of rail control and monitoring systems on rolling stocks. The nROK 3000 can be powered by different power inputs and maintain operation under severe weather conditions, shock and vibration. Rapid transit system, metropolitan rail, commuter rail, high speed rail, tram, and heavy rail will make the best use of nROK 3000. Therefore, NEXCOM's train computer nROK 3000 is ideal for use in safety-critical rolling stock applications, offering proactive failure detection to prevent incidents and provide passengers a safe journey.
To learn more about the solutions, please visit NEXCOM's booth at InnoTrans 2014.
For more information about DELTA COMPONENTS, please visit www.delta-components.de
Event Details
Date: September 23~26, 2014
Location: Berlin, Germany
Exhibition Center: Berlin Exhibition Grounds
Booth: Hall 4. 1, # 203
About DELTA COMPONENTS
DELTA COMPONENTS GmbH is a distribution and system integration company in Germany, founded in the year 1993. The company is specialized in embedded, mobile and automotive computing and display technologies. In the field of In-car-computing and car-PC technology, DELTA COMPONENTS GmbH is one of the leading companies established in the field of logistics, transportation, communication and mobile navigation professionals. Customers such as car manufacturers, police, investigation and special task forces, ambulances and fire brigades are currently using these technologies.