NEXCOM made its debut at the four-day IFESEC show and surprised visitors with its impressive mobile NVR and hybrid security surveillance solutions. The NViS 2280 mobile NVR solution was the highlight for many visitors to the Nexcom booth. Meanwhile, NViS 6210 for enterprise security surveillance also caught the imagination.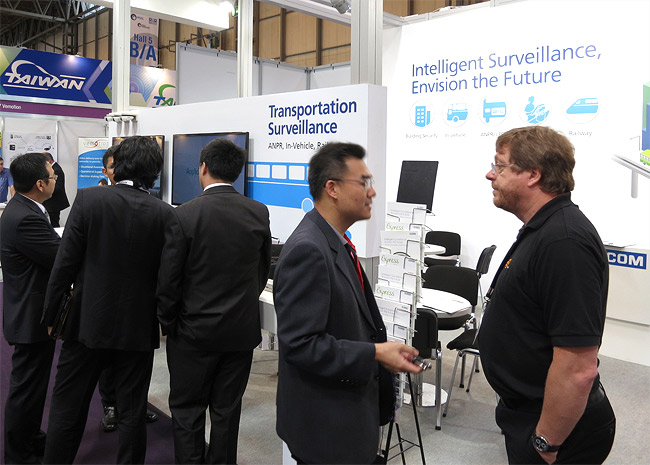 Mobile surveillance remains its popular among visitors to IFSEC. In spite of weak and uncertain economic conditions, IMS research pointed out those global sales of video surveillance equipment will continue to grow by more than 12% in 2012. Rapidly increasing demand for network video surveillance equipment particularly in BRIC countries will overtake analogue CCTV sales. In addition, the imminent London Olympics were also offering a unique opportunity for security surveillance industry. Obviously, only the provider with a full range of products and total solutions can stand at a good position to grab the growing market.
During the exhibition, several well-known IP camera suppliers were interested in NEXCOM's mobile surveillance solutions. The Wintel architecture is providing excellent capabilities of integration and extension. The product can simply be ready to go for a total mobile solution.
NEXCOM's mobile NVR/DVR is designed to incorporate such features as reliability, power management, wireless communication, and expansion. The 16-channel mobile NVR NViS 2280 based on Intel® Atom™ D2550 processor generated much interest with its frontal PoE design and fanless architecture. The NViS 2280 provides faster gigabit transfer speeds with high bandwidth Gigabit PoE and GbE LAN interfaces, also supports 3G/3.5G/Wi-Fi, GPS, and Bluetooth to build a supportive environment with different ranges of network coverage, and therefore is the ideal solution for harsh mobile security surveillance market.
With enterprise security surveillance, NViS 6210 also caught much attention at the stand. Incorporating Intel® vPro™ technology, NViS 6210 is the ideal platform for large scale security surveillance deployments including metropolitan security, public safety, enterprise security, and buildings security.
To learn more about the mobile NVR and enterprise security surveillance, please visit www.nexcom.com