The five day, Taipei based, Computex exhibition, remains a major trigger for the buyers of leading technology products. For example, NEXCOM NDiS 165 1080P signage player and NISE 3600E fanless computer both utilize the latest 3rd generational of Intel® Core™ processor. Both platforms astound visitors with outstanding computing and graphic capabilities. The vehicle mount computer VMC 3000 is IP65 compliant and therefore designed to meet the demanding requirements often associated with in-vehicle computing.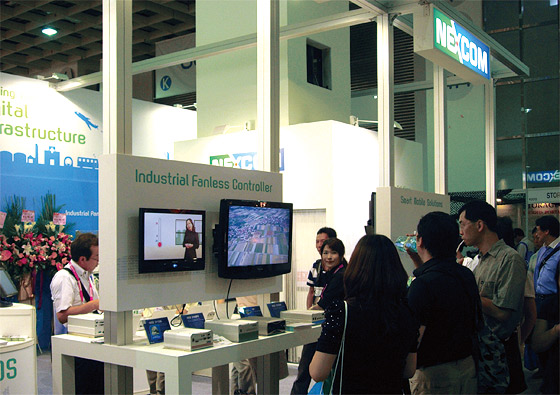 For digital signage market, graphic capability is the bed rock. The 1080P signage players NDiS165 and NDiS 167 both made a great impression at Computex with cutting-edge CPU technology of AMD Embedded R-series and Intel® Core™ i5/i7 processor. With impressive system performances that support smooth 1080P video playback on three independent displays plus full HD videos.
Another onsite star for NEXCOM was the NISE Series of fanless computers. From the NISE 103/104 EZ controller, to power-efficient platforms such as the NISE 2000 series, to high-performance NISE 3000 series, NISE fanless computers meet different levels of demands in industrial automation control. Amongst the most viewed Fanless Computer Systems at Computex was the NISE 3600E, an ultra new product which is integrated with 3rd generation Intel® Core™ CPU and targeted at graphic-intensive high performance computing applications which require low consumption. Furthermore, the institutional design allows better heat dissipation that makes the system run more reliably in the harsh environments such as oil refineries.
Ruggedized IP65 10.4" vehicle mount computer, VMC 3000 attracts visitors with its robust and reliable performance. This all-in-one computer has superb resistance to shock, vibration and dust. Integrated the10.4-inch LCD, VMC 3000 vehicle mount computer combines a high resolution display with 5-wire resistive touch sensor for easy operation. It is an ideal solution for vehicle terminal on forklifts, straddle carriers, truck, mining vehicles, construction machines and marine vehicles.
To learn more about NEXCOM's solutions in diverse vertical markets, please visit www.nexcom.com