NEXCOM will reveal a full range of developments for vertical markets at the 2012 Computex Taipei trade fair. New solutions include a number of platforms based on ARM-based technologies; as well as an innovative range of Transportation Computers, Digital Signage Players, Panel PCs, Fanless Computers and Security Surveillance systems. Computex Taipei, the second largest ICT trade fair in the world, will take place from June 5th to June 9th in Taipei, Taiwan, enabling visitors to acquire NEXCOM's knowhow in building the digital infrastructure for next era of information technology.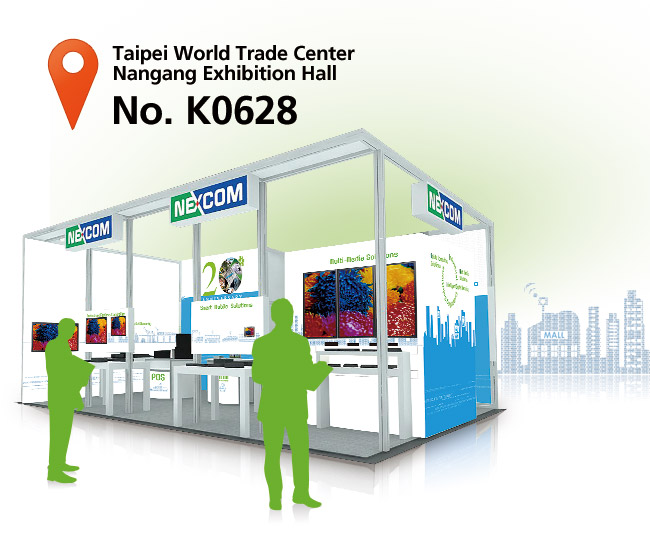 The ARM-based platform is NEXCOM's brand-new solution for specialized application environments. With decades of industrial computing experience and expertise, NEXCOM is combining board design talent, system integration skills and RISC-based ARM SoC prowess to develop the Qseven COM Express module, enabling partners to promptly seize the opportunity of an emerging technology paradigm shift. More than CPU performance, the ARM-based platform such as Q7, ICES730, and RDC100 features low power consumption, thermal efficiency, small size and low cost.
For smart mobile solutions, NEXCOM will showcase versatile transportation computers which can be utilized within in-vehicle, train, and marine applications. The in-vehicle computer VTC series is one of NEXCOM's innovative product lines, which is specially designed for in-vehicle operations within trucks, buses, railway, and cabs etc. The latest innovation is transportation computer VTC 7110, which boasts a powerful Intel® Core™ i7 CPU engine, can be woken up either by the clock or by text message. Combined with isolated digital IO ports along with CAN bus in support of SAE J1939 and J1708, VTC 7110-PoE can support up to 8-channels PoE and was the most sort after platforms at several exhibitions in Netherlands and Germany.
As to the growing market for security surveillance, NEXCOM has developed a wide range of intelligent security surveillance solutions for the applications in public transportation, LPR/ANPR, retail stores, shops, and enterprises.
As a company we have observed that mobile surveillance is becoming popular within the surveillance market, and NEXCOM's rugged NViS Series can overcome the environmental challenges such as excessive vibration, extreme operating temperatures, and network communication, and therefore is the ideal solutions on the market. NEXCOM will present the mobile NVR 2280 and NViS 3542P4 on site at Computex Taipei. The 16-channel mobile NVR NViS 2280 based on Intel® Atom™ D2550 processor is enabling to apply in passenger counting, dispatch management, and route management; while the powerful NViS 3542P4 designed with Intel® Core™ i7/i5 processor provides reliable performance for LPR/ANPR application.
For multi-media solutions, NEXCOM's digital signage player NDiS series is aimed for cost-effective, high performance, and multi-display demands. We believe that the cost-effective NDiS 127 and high performance NDiS 167 will catch a great deal of attention at Computex Taipei. The NDiS 127 is powered by AMD's new Embedded G-Series T56N APU achieves new levels of graphics performance with exceedingly low power consumption. And the NDiS 167 built with upcoming new Intel® Core™ processor offers impressive system performance. Please come and experience the glamour of NEXCOM's multi-media solutions on site!
In addition to the above ultra-reliable solutions, NEXCOM also provides fanless computers NISE series and panel PC solutions for industrial automation applications. NISE 3600E is an eye-catching innovation integrated with 2nd generation Core™ family processor. NISE 3600E is targeted at graphic-intensive computing applications and can support three independent displays thus reducing the need to purchase three separate computers and thus reducing cost. On the other hand, NEXCOM has developed a full range of Panel PC solutions for the use in factory, medical, mining, and heavy electrical industries. At computex, you will be able to find APPC series, FPPC series, and HPPC series on the displays.
To learn more solutions, please visit NEXCOM's booth at Computex Taipei 2012.
Event Details
Date: June 5-9, 2012
Venue: Taipei, Taiwan
Exhibition Hall: Taipei World Trade Center Nangang Exhibition Hall
Booth: K0628