Industrial PC manufacturer NEXCOM has unveiled its new video conferencing software – ToGazer 2.0, which promises high resolution and smooth streaming performance. This application features the latest WebRTC technologies to achieve remote real-time video conferencing with multiple users through a web browser and supports mobile devices (i.e., iPhone, iPad & Android phone, Android Pad). With ToGazer 2.0, there is no limitation of space, and users will be able to engage in a variety of activities anytime, anywhere, such as video conferencing, distance education, corporate training and live video chat for customer service, live streaming connections, synchronized live streaming and so forth, making "Bringing Everyone Together. Anytime & Anywhere" a reality.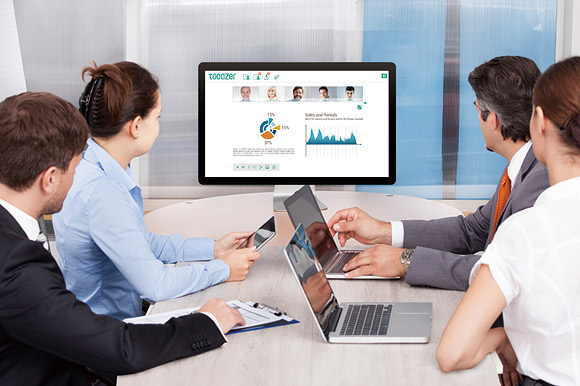 The strength of ToGazer 2.0 lies in its ability to offer higher streaming resolution while requiring less bandwidth for video data transmission for multi-user video conferencing. In order to enable more users to experience the appeal of ToGazer 2.0, NEXCOM has offered free download for the "Community version" and App (for both iOS & Android). The good news is, ToGazer 2.0 only requires users to have a modest setup in terms of hardware specification; users with standard consumer PC may enjoy corporate class video conferencing quality that would typically come at a staggering price point.
As its name implies, ToGazer 2.0 is designed for users at multiple endpoints to come face-to-face, communicate with one another and participate in different activities as a group over the Internet. According to Clement Lin, Chairman of NEXCOM, "As ToGazer 2.0 utilizes WebRTC technologies, it really is a software "born to be wild" – all a user need is access to a public network to be able to initiate a multi-point video conferencing through a desktop/notebook/tablet or smart phone that has a camera and microphone over an Ethernet network, Wi-Fi or 4G network, anytime, anywhere. "NEXCOM's ToGazer 2.0 software comes in different versions: "Community", "Standard", "Professional" and "Enterprise" with varying product features and bandwidth to enable up to 10 users and multiple groups of users to take part in multiple streaming, or even reach out to more than 1,000 viewers from around the world to come together.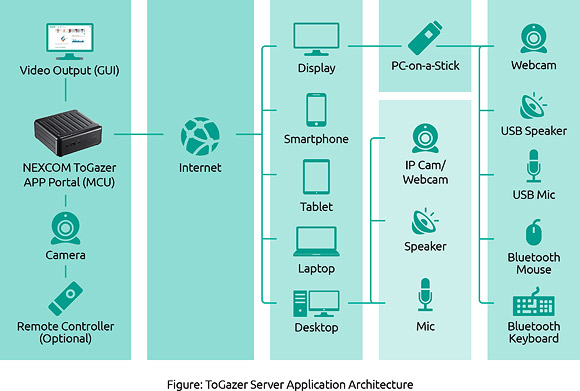 Version

Community

Standard

Professional

Enterprise

Multi-meeting

No time limit

Meeting numbers

No limit

Speakers/ Meeting
(Maximum speakers/ Meeting)

4

6

16

16

Virtual meeting group

1

1

4

8
NEXCOM Chairman Clement Lin believes that low initial deployment costs and not being bound to time or spatial limitations are the primary market strengths that ToGazer 2.0 brings to the table. Presently, professional video conferencing solutions go for anywhere between US$ 5,000 ~ 10,000. In fact, to set up video conferencing between two end points requires an initial investment in excess of US$ 10,000, not to mention that the solution will often require a dedicated conference room, offer no support for mobile devices (or charges extra for mobile device support) and some even require bandwidth from a dedicated network. With some of these commercial solutions, once the connection exceeds four end points or more, streaming quality would be compromised. There are also cloud service providers that offer free video conferencing services. The problem with such services is that streaming quality is barely serviceable for peer-to-peer connections; with three end points or more involved, streaming quality would become an issue and if users wish for more functionalities, they would be required to pay more. In contrast, NEXCOM's ToGazer 2.0 only requires the average consumer PC to function as the server to deliver stable, enterprise-level video streaming quality while costing merely a tenth of the price for other professional video conferencing products. Users will be able to conduct video conferencing remotely with multiple end points with just a web browser, thereby freeing themselves from specific physical constraints.
In order to allow more users to have a taste of the appeal that ToGazer 2.0 has to offer, NEXCOM has hosted the community version of this software on www.alliotcloud.com for free download. All you need is a PC (available at a couple of hundred bucks) to get started with countless of activities with other users for creative brainstorming and collaboration over the Internet. As Clement Lin emphasized, "It is the sentiment of sharing something good with the society that most aptly sums up our excitement at NEXCOM regarding the launch of ToGazer 2.0. All users are more than welcome to share their reviews, thoughts, comments and experience with the software with NEXCOM by posting it at www.alliotcloud.com."
Download link for ToGazer 2.0:
https://www.alliotcloud.com/market/singl.php?PID=125