Intel® Smart Display Module (SDM) is the next evolution of the popular Open Pluggable Specification (OPS) for digital signage players. The slimmer but more powerful Intel® SDM-L reduces the overall size of the digital signage player and is designed to accommodate slimmer displays where internal space is severely limited. NEXCOM has embraced this new specification to design the NDiS S538 SDM-L digital signage player with support for up to 4K resolution and the 6th generation Intel® Core™ processors.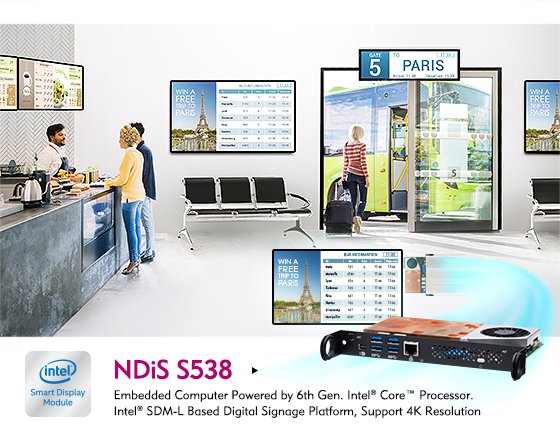 Range of Processor Options
At the heart of this design is the flexibility that system integrators need for optimizing the specifications in complex projects. The Intel® Q170 chipset supports a broad selection of Intel® processors, ranging from Intel® Pentium® up to Intel® Core™ i7, offering the most computing power available in this compact setup. These standardized options allow a single hardware design to encompass the full range of computing power requirements with the minimum hassle.
4K Resolution Display Engine
For multiple screen applications, the NDiS S538 has native multi-display support built right in, offering astounding 4K resolution video output without any further external hardware such as a video splitter. Beyond these core functions, the other technical specifications are modularized, enabling a choice of memory speed and capacity, various storage options through an M.2 connector, and an optional Wi-Fi module through another M.2 connector is available on request.
Display Partner Alliance
In the quest for hassle-free compatibility with partner products, ensuring simpler development and quicker time to market, NEXCOM has partnered with several global display manufacturers to ensure compatibility between the NDiS S538 and their TFT-LCD displays. The NDiS S538 has been tested to work flawlessly with two specific displays: a 55" signage display and the slightly smaller 43" signage display.
SDM Advantages
NEXCOM's SDM form factor motherboards make intelligent display development easy. Much like the OPS platform before, the SDM digital signage player module features the Intel® slot-in design and interfaces with an internal PCIe x8 connector. In the event of hardware failure or other issues, the module can be quickly unfastened and replaced without complicated tools or removing the display from the installation. Above all else, the end customer can harness the built-in Internet connectivity to update core software and advertising from a remote location, drastically increasing the speed rollout of new campaigns.
Main Features
Intel® Smart Display Module Large (Intel® SDM-L) form factor
6th generation Intel® Core™ processor, 35W
Intel® HD 530 graphics engine
Three independent displays
Two DDR4 SO-DIMM slots (up to 16 GB per slot)
M.2 connector for Wi-Fi module
M.2 connector for storage
Ordering Information
NDiS S538 (P/N: 10W00S53800X0)
Intel® Smart Display Module Large (Intel® SDM-L), 6th gen. Intel® Core™ LGA1151 type processor, Intel® Q170 chipset