In order to meet various requirements from different aspect of market applications, NEXCOM has launched two digital signage players, NDiS B327 and NDiS B328-KI3 for customers to choose from according to their needs. NDiS B327 is an entry-level fanless embedded computer, featuring a variety of I/O interface to ensure flexible expansion. It also comes with competitive market price that helps reducing business costs. For advanced-level digital signage player, NDiS B328-KI3 is small in size but huge in scalability. With Intel® Core™ i3 SoC processor and supporting HDMI 1.4 display output, this 4K signage player enhances user experience by powerful graphic process for large screen. Together with NEXCOM's digital signage software, PowerDigiS, both NDiS B327 and NDiS B328-KI3 greatly shorten developing time and lower business costs efficiently.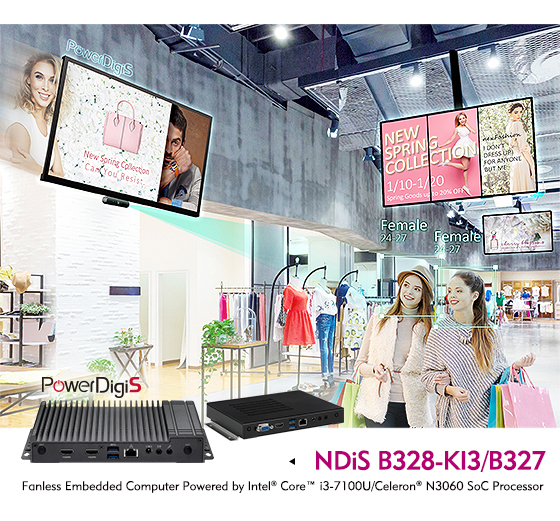 Flexible Expansion As Well As Competitive Market Price
Powered by Intel® Celeron® N3060 processor and supporting HDMI 1.4 and VGA independent display, NDiS B327 digital signage player is able to handle multimedia contents with low power consumption. This compact digital signage has various I/O interface design. With total of 6 USB ports, NDiS B327 makes system integration much easier with various peripherals, such as touch screen displays, scanners and readers. Not only NDiS B327 provides flexibility for expansion, it also comes with competitive market price that helps customers reducing business costs. NDiS B327 is the solution for informative-oriented applications, such as menu boards, Public Information Display, digital transit information signs, product promotions in retailers, and IoT Gateway for smart city application.
Small In Size, Huge In Scalability
Equipped with 7th Intel® Core™ i3 SoC processor and dual HDMI 1.4 displays support, NDiS B328-KI3 is capable of optimizing graphic process and video streaming for up to 55" large screen signage board. Comes with slim size of 224.34mm (W) x 147.4mm (D) x 35mm (H), NDiS B328-KI3 is a true savior for customers having space-concerned issue. With operating temperature up to 50°C and fanless design, NEXCOM NDiS B328-KI3 is ready for cruel environment. Furthermore, it is easy to change Wi-Fi module and memory from the back for future maintenance. This 4K signage player is able to meet a variety of requirements for applications such as hospitality signage, kiosk, stand-alone signage and multi-display dashboard.
Ready Solution with PowerDigiS
PowerDigiS is digital signage software developed by NEXCOM aiming to provide customers a retail solution with enhanced multimedia experience. With user-friendly interface, it is easy for customers to build customized information and advertisement for targeted audiences; just insert your media content and it's ready to go! Real-time information can be updated via network connection remotely which makes future maintenance so easily. "PowerDigiS is compatible with both NDiS B327 and NDiS B328 which provides customers a ready solution to shorten developing period and lower business costs," says Lisa Chen, Assistant Vice President of NEXCOM Intelligent Platform and Service Business Unit. With Intel® i5 processor and vPro technology, NDiS B328 is further capable of fulfilling AI application requirements by handling facial recognition, object detection and data analysis.
Main Features
Model Name

NDiS B328-KI3

NDiS B327

CPU

Intel® Core™ i3-7100U

Intel® Celeron®N3060

Memory

DDR4, up to 32G

DDR3L, up to 8G

Storage

M.2 2280 SSD,
PCIe by 4+ SATA signal

2.5" SATA SSD bay

M.2 2242 SSD, SATA signal

Expansion

M.2 E key 2230 slot, support Wi-Fi

mini-PCIe , support Wi-Fi module

I/O

6 x USB 3.0

2 x USB 2.0, 4 x USB 3.0

1 x DB9 for RS232

1 x DB9 for RS232

2 x HDMI 1.4 (4K resolution)

1 x VGA (1920 x 1200 resolution)

1 x HDMI 1.4 (4K resolution)

1 x RJ45 with LEDs for Gigabit LAN

1 x RJ45 with LEDs for Gigabit LAN

Operating temperature

0°C ~50°C

0°C~40°C

Ordering information

10W00B32809X4

10W00B32701X4