The business goals are seeking solutions to work toward network virtualization for communications and cloud services providers. It should be a challenge faced by service providers' enterprise and business customers.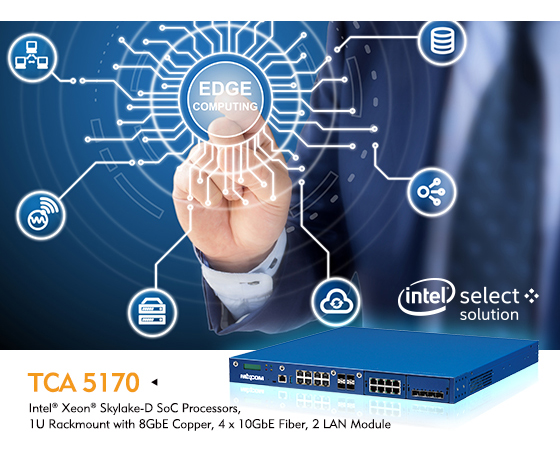 Meanwhile, small business owners also encounter connectivity issues when adopting current consumer-graded IT communication appliances for business purposes. This problem persists through the transition of IT infrastructure from traditional stand-alone communication appliances (such as load balancers, edge routers, industry firewalls, and VPNs) to virtualized appliances, where a great variety of network functions run on general-purpose servers.
NEXCOM TCA 5170 1U rackmount is designed with features perfect as an universal Customer Premises Equipment (uCPE) platform to expand customers' service portfolios for this growing 5G world to solve challenges mentioned above.
Intel® Select Solution for uCPE TCA 5170 Configuration
NEXCOM TCA 5170 is a verified Intel® Select Solution uCPE with multi-access edge computing, multiple network connections including high-speed Ethernet, LTE and Wi-Fi flexible to adopt to the connectivity available in the market today. Hardware configuration as table 1 below.
Table 1: Intel® Select Solution TCA 5170 HW configuration
Processor Number

Intel® Xeon® D-2166NT processor

Processor Spec.

12 Cores , 17M Cache , 2.0 GHz

Memory

8 x 16GB DDR4 2666 DIMM ECC/non-ECC memory, max. 256GB

Networking

2 pairs LAN bypass
(4 x 1 GbE integrated Intel® Ethernet Controller I350 LAN Switch)

Storage

1 x Intel® Solid State Drive Data Center @ 480 GB 1 x 2.5" HDD bay
1 x M.2 2242 and 2280 length M-key socket

Front I/O

1 x USB 3.0
1 x Micro USB type console port
1 x LAN controller
8 x Copper RJ45 ports
4 x SFP+ fiber ports
1 x 16x2 LCM (optional)
2 x LAN module slots (optional; refer LAN module list )
4 x SMA connector holes for RF antenna cable

Internal I/O

M.2 2280/2242 (M key ) for Storage
M.2 2230 (SATA E key) for Wi-Fi
M.2 3042 (SATA B key) with SIM slot for LTE
One standard SIM slot for LTE modem
SATA ports x 4

Rear I/O

VGA
NEXCOM TCA 5170
Connectivity
NEXCOM TCA 5170 comes with eight Gigabit-Ethernet ports and four SFP+ ports for 10-Gbit-Ethernet. Available to enhance with a variety of NEXCOM LAN modules connected by PCIe interface x16 or x8. Table two provides the list of NEXCOM LAN modules available for TCA 5170.
Customers can match specific deployment needs with the same platform by adopting different configurations of 25GbE, 40GbE and 100GbE network interfaces.
Table 2: NEXCOM LAN modules
| | | | | |
| --- | --- | --- | --- | --- |
| Model | NEXCOM P/N | LAN Controller | Type | Ports |
| NX 140F | 10S20142F03X0 | XL710-BM1 | PCIe x8 | 4 SFP+ |
| NX 142F | 10S20142F01X0 | XL710-BM1 | PCIe x8 | 4 SFP+ |
| NX 142F-LR | 10S20142F03X0 | XL710-BM1 | PCIe x8 | 4 SFP+ |
| NX 120F | 10S20120F00X0 | XL710-BM1 | PCIe x8 | 2 SFP+ |
| NI 140F | 10SK000NI02X0 | I350AM4 x 1 | PCIe x8 | 4 SFP+ |
| NI 180F | 10S10180F01X0 | I350AM4 x 2 | PCIe x8 | 8 SFP |
| NI 142C | 10S20142F03X0 | I350AM4 x 1 | PCIe x8 | 4 Copper |
| NI 180C | 10S10180C01X0 | I350AM4 x 2 | PCIe x8 | 8 Copper |
| NI 184C | 10S10184C01X0 | I350AM4 x 2 | PCIe x8 | 8 Copper |
| NI 142F | 10S10142F01X0 | I350AM4 x 1 | PCIe x8 | 4 SFP |
| NI 121F | 10S10121F01X0 | I350AM4 x 2 | PCIe x8 | 2 SFP |
| NI 140C | 10S10140C01X0 | I350AM4 x 1 | PCIe x8 | 4 Copper |
| NV 120F | 10S50120F01X0 | XXV710-AM2 | PCIe x8 | 2-SFP28 ports 25G |
M.2 for Wi-Fi/LTE 4G & 5G
The TCA 5170 integrates 3 types of M.2 connectors (M.2 2280/2242 M key; M.2 2230 SATA E key; M.2 3042 SATA B key with SIM slot), one SIM slot, and four SMA connector holes for RF antenna cable. LTE and Wi-Fi connectivity options can be easily enabled in this platform.
Intel® QuickAssist Technology
TCA 5170 also provides Intel® QuickAssist Technology (Intel® QAT). Inte® QAT accelerates encrypted data traffic in a secured network, reduces overall data size and lowers storage demands by speeding real-time compression while at the same time offloading the CPU of some of the processing workloads. An optional trusted platform module (TPM) for encryption, authentication and digital rights management is also available for the TCA 5170, and the whole system can be monitored by the Intelligent Platform Management Interface (IPMI 2.0).
Optimizations
TCA 5170 is optimized by using Intel® Virtualization Technology (Intel® VT) to enable virtualization for the uCPE/vCPE field.
Scalability
TCA 5170 comes with high scalability as a server-graded uCPE/vCPE offering up-to 12 cores with Intel® Hyper-Threading Technology (2 threads/core) & 256 GB memory capability.
Performance
The Intel® Xeon® processors D-2100 at the core of the TCA 5170 support Intel® Advanced Vector Extensions 512 (Intel® AVX-512) and Intel® Advanced Encryption Standard New Instructions (Intel® AES-NI)
Intel® AVX-512 delivers workload-optimized performance and throughput increases for advanced analytics, compute-intensive applications, cryptography, and data compression
Intel® AES-NI accelerates data encryption and decryption for security-enabled websites
The Intel® Xeon® D-2100 processor includes the Network Virtualization Optimizations (VXLAN, NVGRE, GENEVE, NSH, etc.) to support the establishment and connection to the virtual network between VMs and group them as the LANs.
Compatible Virtualization
Virtual technology is not limited to IT room, and it goes beyond for the connection between VMs. As an enterprise-level of uCPE/vCPE, the TCA 5170 can support VM-to-VM connections from public or private cloud, or from the uCPE/vCPE where enterprise branches are located for easy central management.
Performance Test Report
RFC 2544: two SFP+ ports of embedded Intel® Ethernet Network Adapter X722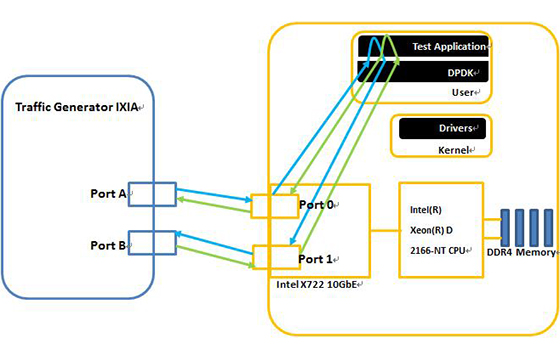 | | | | |
| --- | --- | --- | --- |
| Packet Size (Bytes) | Throughput (Mpps) | Line Rate% | Line Rate [2*10G] (Mpps) |
| 64 | 29.76 | 100 | 29.76 |
| 128 | 16.89 | 100 | 16.89 |
| 256 | 9.06 | 100 | 9.06 |
| 512 | 4.70 | 100 | 4.70 |
| 1024 | 2.39 | 100 | 2.39 |
| 1280 | 1.92 | 100 | 1.92 |
| 1518 | 1.63 | 100 | 1.63 |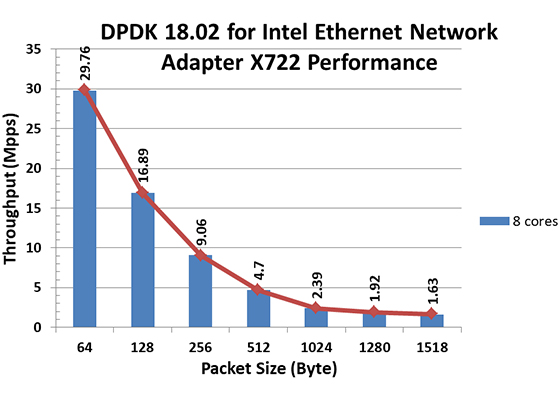 SR-IOV: VM-to-VM iperf performance of Intel® Ethernet Controller I350 and Intel® Ethernet Controller XL710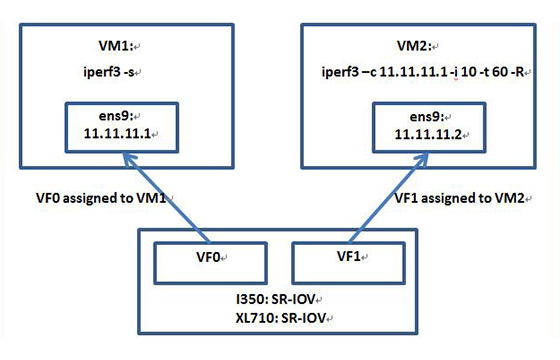 | | |
| --- | --- |
| NIC | Throughput (Bits/s) |
| Intel® Ethernet Controller I350 v-switch | 7.14G |
| Intel® Ethernet Controller XL710 v-switch | 10.1G |
VPP-ipsec: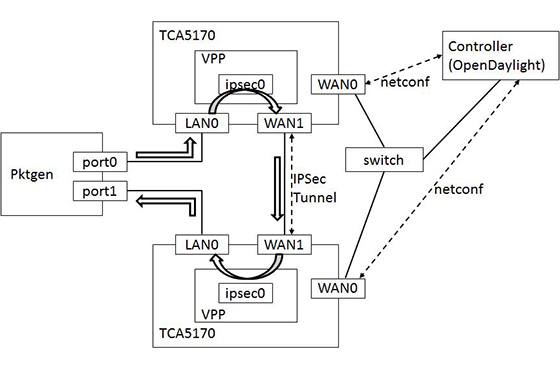 Platform

Intel

®

Xeon

®

processor D-2100

CPU

Intel® Xeon® processor D-2166NT @2.0GHz

Memory

DDR4@2400 16G x 1

NIC

Intel® Ethernet Network Adapter X722 10G SFP+ (FW 3.33 0x8000e2c)

Intel® QAT

Intel® C6xx Series Chipsets

VPP

Default setting (1queue @1core)

Kernel boot options

iommu=pt intel_iommu=on
Intel® Ethernet Controller I350 1Gb Ethernet TP port

-

64B

128B

256B

512B

768B

1024B

1280B

1518B

MBits/s

590

717

826

901

931

947

957

962

PPS

880279

606774

374250

211866

147754

113430

92057

78223

Intel® Ethernet Network Adapter X772 10Gb Ethernet SFP+ port

-

64B

128B

256B

512B

768B

1024B

1280B

1518B

MBits/s

2343

4067

7486

9000

9310

9480

9570

9624

PPS

348745

3435770

3390647

2115166

1477056

1135134

920209

782220
How far away are you from the "edge"? With TCA 5170 the "edge" is under your feet. Visit us or contact us for more information.
Related Products: TCA 5170
Ordering Information
TCA 5170 (P/N: 10CA0517000X0)
1U Intel® Xeon®-D 2100 (Skylake-D) SoC D-2145NT with 4 x 10GbE + 8 1GbE LAN ports, 2 LAN module (NI/NX series) bays, w/o LCM kit