NEXCOM's latest OPS media player, the NDiS M335 increases deeper engagement for viewers at airports, enterprises, and schools. Powered by Intel® Celeron® Processor N3150 (formerly codenamed Braswell), the NDiS M335 delivers informative and eye-catching 4K videos while its remote manageability simplifies deployment, maintenance, and upgrade errands. Airports, schools, and enterprises can better inform targeted audience with greater reach of context.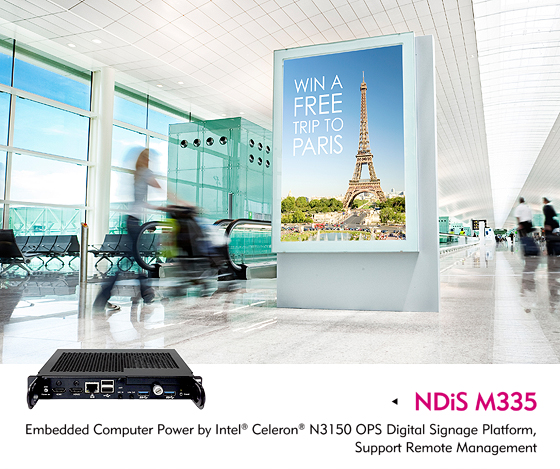 The NDiS M335 is based on 14nm Intel® Celeron® Processor N3150 and Intel® HD Graphics. It delivers enhanced interactive experience with smoother running of 4K media files and whiteboard software. Featuring triple HDMI outputs, the all-in-one OPS media player supports 4k displays. The NDiS M335 can be deployed in airports as terminal digital displays to entertain passengers or enable a faster flow of traffic with clear wayfinding information. For schools and enterprises, the NDiS M335 can be used to draw avid communications and encourage participation beyond borders.
The OPS design of NDiS M335 simplifies installation and maintenance. A uniquely designed Gigabit LAN port enables remote management with content upgrades. BIOS maintenance can be done remotely, thus ensuring operation uninterrupted and lowering labor cost and repair time.
Adding its usability, the OPS player accommodates rich I/O and expandability. Latest M.2 SSD boosts extra media file capacity while a mini-PCIe for an optional 3G/4G module allows wireless communications. Users can enjoy smaller form, improved startup speed, overall performance, along with economic benefits at the same time.
Main Features
Intel® Celeron® Processor N3150
Support 4K video outputs
Support 2.5 HDD/SSD, M.2 SATA SSD
Dual SO-DIMM slots for up to 8GB of DDR3L 1600 memory
WWAN/WLAN/TV Tuner support
Remote management (DASH)
Ordering Information
NDiS M335 (P/N: 10W00M33500X0)
Intel® Celeron® N3150 processor SoC OPS