NEXCOM NISE 106 is a compact yet feature-rich fanless computer, aimed to satisfy user's need for compute, multimedia, connectivity, and networking functions all at once. Supporting Intel® Pentium® and Celeron® Processors N3000 product family (codename Braswell), the NISE 106 offers excellent value for cost with up to quad-core computing power, HEVC decoding with three display support, high compatibility with both the latest and legacy peripherals, and internet connectivity. The fanless computer NISE 106 can help ensure product quality through vision inspection and factory operation monitoring.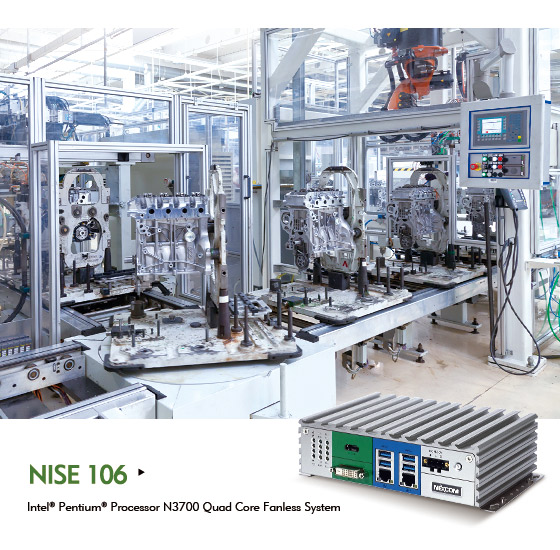 "In the internet of things (IoT) era, fanless computers are at the crossroads where functionality and cost severely clash. They are expected to perform versatile functions including compute, control, and communicate while cost remains a major influence to client" explained Joe Lin, General Manager of NEXCOM IoT Automation Solutions Business Group. "Based on new Intel® processors, NEXCOM fanless computer NISE 106 is able to offer unprecedented cost-performance value, compared to previous Pentium®- and Celeron®-based NISE models. Meanwhile features highly appreciated by our clients including fanless design, compact size, and low power consumption are kept."
"Based on Intel's 14nm manufacturing technology, the Intel® Pentium® and Celeron® Processors N3000 product family are dual or quad-core SoC processors integrated with Intel® Gen 8 graphics," said Intel Senior Product Line director Jonathan Luse.. "These new SoC processors provide high performance per watt and media processing capability suited to the growing needs of intelligent systems."
For industrial control applications, the NISE 106 with dual- or core computing power can serve as an intelligence controller, human machine interface (HMI) and server node. Automatic optical inspection machine can benefit from the NISE 106's hardware-accelerated high efficiency video coding (HEVC) support and high speed USB 3.0 and GbE LAN interfaces. Also, the small-sized fanless computer provides highly flexible connections with three display interfaces: DVI-D, HDMI, and DisplayPort. Legacy devices using serial communication are supported with four independent COM ports. Facing the need for IoT gateways, the NISE 106 is also equipped with wireless Wi-Fi/3.5G/LTE connectivity to allow for network communication. Moreover, NISE 106 featuring versatile functionality is sometimes used as interactive kiosks, delivering a sensational feast to the eyes or delivering information and services.
Main Features
Support Intel® Pentium® processor N3700 and Intel® Celeron® processor N3000 product family
3x display output: HDMI, DVI-D, DisplayPort
2x GbE LAN port with support for WoL, teaming, and PXE
4x USB 3.0, 2x RS232/422/485, 2x RS232
1x mini-PCIe for optional Wi-Fi/3.5G/LTE module
Operating temperature range of -5°C~55°C
Support 9~30V DC input
Ordering Information
NISE 106 (P/N: TBC)
Intel® Pentium® and Celeron® Processors N3000 product family, fanless system
24V, 60W AC/DC power adapter w/o power cord (P/N: TBC)
Optional Wi-Fi/GSM module (P/N: TBC)