NEXCOM ROKA series offers to give clear sight to machine automation systems, enabling production to pick up the pace and quality inspection procedures to be held to high standards. Aimed at machine vision for industrial applications, NEXCOM ROKA machine vision series encompasses a selection of cameras, lenses, and lights to capture quality images for use in robot guidance, object recognition, and defect inspection applications.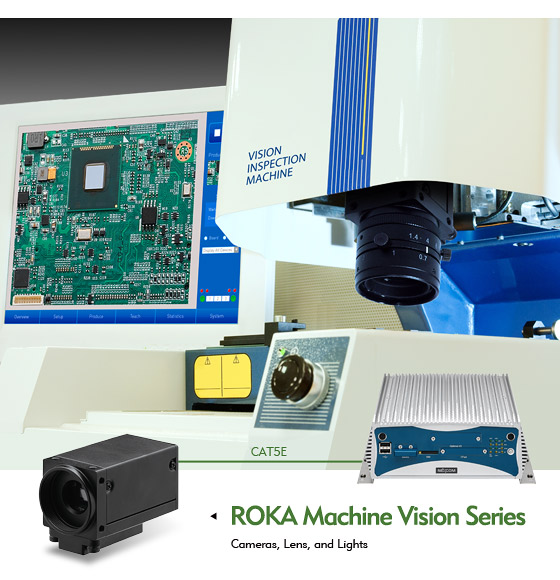 To fulfill different speed and precision requirements of machine automation processes, NEXCOM ROKA cameras offer three combinations of image capture resolutions and frame rates. The ROKA 30 is a 0.3-megapixel camera which can generate one hundred images per second. The high-speed camera can accelerate machining processes by providing workpiece alignments and giving visual guidance with reduced cycle time; and help with tasks such as time-consuming 100% inspection, mundane pallet stacking, and dangerous heavy lifting.
The ROKA 130 has a higher resolution of 1.3 megapixel and 60 fps. The ROKA 130 can perform profile inspection on metal parts and components and collaborate with pick-and-place robots on material sorting and product packaging. Meanwhile, the ROKA 500 featuring 5-megapixel capability and 15 fps support is intended for high precision inspection. With manufactured parts shrinking in size and demand for precision growing stringent, the ROKA 500 can find defects with tolerance measured in hundredths of millimeters, capturing subtle nuances that are hardly seen with human eyes.
To provide optimum angle of coverage for machine vision, the ROKA series offers RK-C1614, RK-C2514 and RK-C3518, lenses with a field of view of 37.2, 24.7, and 18 degrees to adapt to the dimension of an inspection area. Also, the ROKA series are available with a LED bar array light, backlight, and ring light which are designed to create multi-angle illumination, even and low-density lighting, and area lighting to enhance image capture quality.
NEXCOM ROKA machine vision series belongs to NEXCOM NexMotion machine automation solution family which consists of motion control platform, machine vision, SoftMotion programming tool, servo motors and I/O modules to build industrial robots, distributed control systems, general motion control systems, and CNC machines.
Main Features
Resolutions: 752 x 480/ 1280 x 960/ 2592 x 1944
Up to 100 images per second
GbE interface
Binning and ROI
Global shutter
Trigger input and I/Os
Digital I/O strobe
Power over Ethernet
Direct power option
Compatible to C and CS mount lenses
Ordering Information
ROKA30 (P/N: 10J90003000X0)
0.3-megapixel camera with 100 fps
ROKA130 (P/N: 10J90013000X0)
1.3-megapixel camera with 60 fps
ROKA500 (P/N: 10J90050000X0)
5-megapixel camera with 15 fps
RK-C1614 (P/N: 7D30700001X00)
16mm FA CCTV Lens
RK-C2514 (P/N: 7D30700002X00)
25mm FA CCTV Lens
RK-C3518 (P/N: 7D30700003X00)
35mm FA CCTV Lens
RK-RC36-R-90 (P/N: 7900000111X00)
Ring light
RK-BT60-R-20 (P/N: 7900000113X00)
Thin back light
RK-BA100-R-3 (P/N: 7900000114X00)
Bar array light