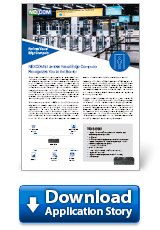 As we encounter consistent yearly global population growth and unexpected pandemic outbreak, automated border control solutions are becoming more desired than ever. Nowadays, for travelers to enter the border of their destination, they can undergo an identity verification process by AI recognition, together with biometric verification via passport, facial, and fingerprints at eGates. NEXCOM is committed to implement the 12th Gen Intel® Core™ processor and Intel® 600 series chipset designed fanless visual edge computers into airports and ports. When installed, this computer can reduce labor costs and minimize contact while enhancing efficiency and security; leading to a fulfilling traveler's experience.
When executed at customs, NEXCOM's NDiS B561 fanless visual edge computer provides travelers with an intuitive and convenient border crossing process. Depending on the setting, operators may request up to three HDMI ports for three 4k2k independent displays and eight USB 3.2 for cameras, fingerprint scanner, passport scanner, and other peripherals. As this fanless visual edge computer connects to the border control system via WAN, it utilizes either LAN, Wi-Fi 6E, 4G, 5G, and AI recognition technologies to validate the traveler's identity from the cameras and scanners.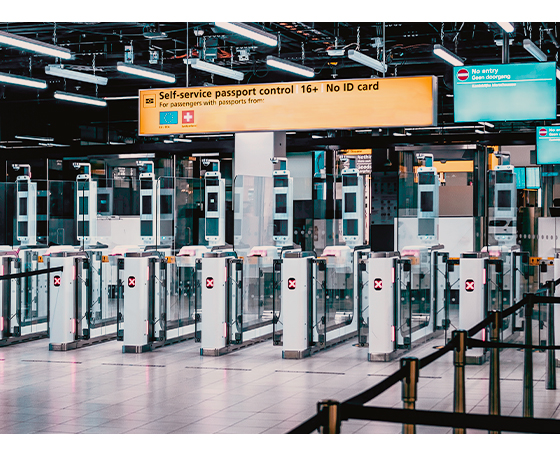 Powered by the 12th Gen Intel® Core™ processor, Intel® 600 series chipset, and Intel® integrated UHD 770 graphics engine. The NDiS B561 handles challenging multimedia content and AI applications effortlessly via its high-speed computation capabilities. With practical I/Os, high-speed wireless technologies, AI recognition, and dependable technical support, it delivers an intuitive and reliable automated border control solution; significantly optimizing passenger flow.
Customer service has always been one of the utmost priorities for NEXCOM. Thus, the I/Os and chassis of NDiS B561 were customized to perfectly fit users' application demands. Beyond I/Os, BIOS can also be customized to set and display users' logos whenever this automated border control solution is booted up to promote brand recognition. NEXCOM's technical support team is always on duty to provide and assist customers in completing comprehensive system validation. The NDiS B561 is a reliable and efficient high-performance visual edge computer that maximizes convenience and safety, providing a pleasant journey for everyone.
Application Diagram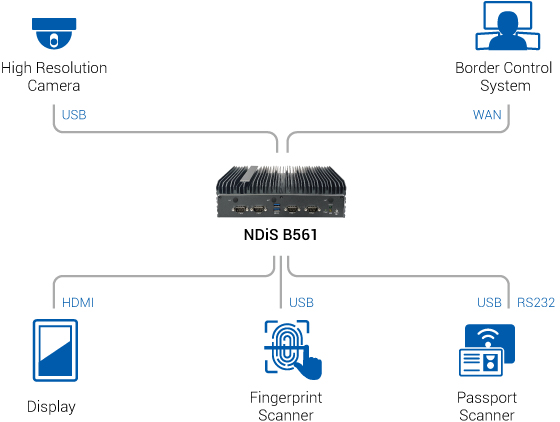 Key Features for Application Needs
Support 12th Gen Intel® Core™ i9/i7/i5/i3 LGA socket type embedded processor, up to 35W
Intel® Q670E
Intel® integrated UHD graphic engine driven by Xe architecture
Support 3 independent 4K2K@60Hz display output. HDMI 2.1 resolution supports up to 8K@60Hz
1 x HDMI 2.1, 2 x HDMI 2.0
8 x USB 3.2, 4 x COM
1 x GbE LAN, 2 x 2.5G GbE LAN (PoE for B561-PoE)
Support M.2 Key B/E/M
Support extended temperature -20~60°C (B561 only)
Fanless design