NEXCOM's durable yet economical vehicle mount computer, VMC 100, is built to maximize fleet efficiency and safety. VMC 100 features ARM® Cortex™-A8 processor and an open embedded system of Android, Linux, or Windows Embedded Compact 7, delivering a flexible platform for third party fleet management software. The robust VMC 100 not only delivers great user experience but also helps drivers achieve simplified operational tasks and stay focused on the road.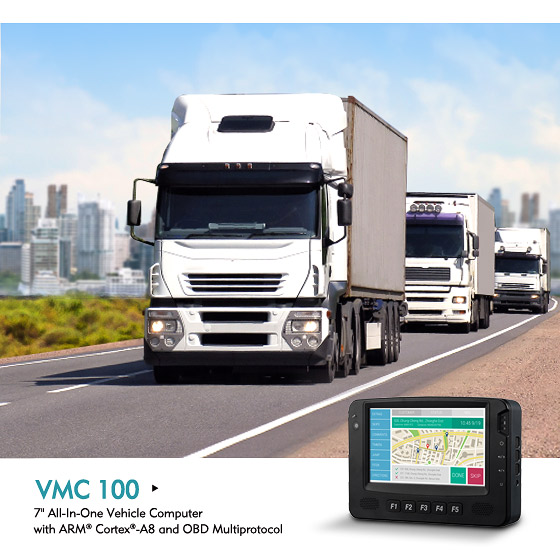 Powered by ARM® Cortex™-A8 processor and multiple OS supports, VMC 100 allows flexible fleet management software integrations. The low-power-consumption vehicle mount computer can automate GPS tracking, hours of service (HOS) logging, and the International Fuel Tax Agreement (IFTA) reporting, which helps fleets stay complaint.
Aiming to increase operation efficiency and safety, the 7-inch vehicle mount computer features interface-rich and user-friendly designs. For instance, onboard peripherals such as RFID scanners and in-vehicle sensors for tire pressure and engine temperature can be easily added via RS-232/422/485, USB 2.0, DI/O, GPIO, and analog I/O. Equipped with two CAN bus interfaces, the computer ensures large, prioritized in-vehicle data circulates smoothly at all times. 3G/LTE and Wi-Fi connectivity is also available, keeping drivers updated with latest information instantly. In addition, drivers can get immediate access to essential activities and response quickly with the help of VMC 100's five programmable function keys and an auto-brightness feature.
Built from the bottom up to deliver durability and reliability, VMC 100 is compliant with MIL-STD-810G for shock and vibration resistance. The front face also has an IP54 rating for dust and water resistance, ensuring sustainable operations in bumpy, dusty, off-road conditions. In addition, VMC 100 features an LED power indicator to show the boot status of the computer. When detecting an error condition, the LED will flash to indicate the issue, which simplifies the troubleshooting and recovery process. Best of all, complying with SAE J1113, ISO7637-2, and SAE J1455, the rugged computer is made to meet demands from fleet applications.
Main Features
TI AM3352 ARM® Cortex™-A8 (720MHz)
Support Android, Linux, or Windows Embedded Compact 7
Splendid 7-inch touchscreen with WVGA resolution
Compact and fanless design
Programmable function keys
Built-in GPS with optional dead reckoning support
Variety wireless communication options (Wi-Fi, 3G/LTE)
Dual CAN bus support with optional OBD II (SAE J1939)
SAE J1113, ISO7637-2 and SAE J1455 compliance
Wide DC input range from 9 ~ 36V
Smart vehicle power management
Ordering Information
VMC 100 (P/N: TBD)
7" all-In-one vehicle mount computer with touchscreen and ARM® Cortex®-A8 processor (720MHz), 512MB of DDR3, GPS, dual CAN bus 2.0B, Linux Ubuntu OS
Bundle Accessories
Driver CD, GPS antenna, multi-I/O cable, external power cable (13cm)