NEXCOM has released the type 6 COM Express compact module ICES 672 to unlock the potential of Internet of Things (IoT) across industries. Featuring 5th generation Intel® Core™ processors, the ICES 672 has packed triple independent display support, 2D/3D imaging and video processing capabilities, and network connectivity on to a 95x95 mm footprint while consuming low power. The ICES 672 is geared toward compute- and graphics-intensive devices with size, weight, and power (SWaP) constraints.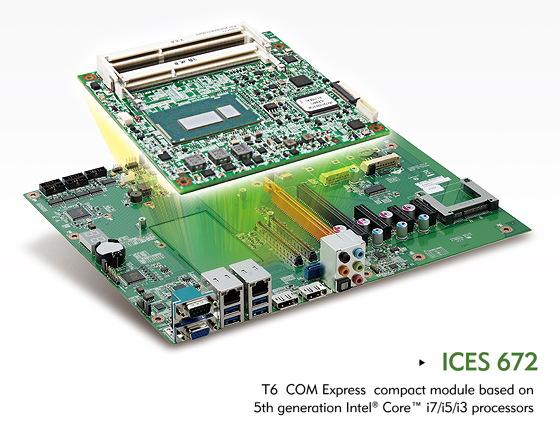 The type 6 COM Express compact module ICES 672 supports 5th generation Intel® Core™ i7/i5/i3 processors which come in a multi-chip package (MCP). With CPU and platform control hub (PCH) combined onto a single package with power consumption of 15W, the ICES 672 delivers a superb balance of performance, power, and size. The ICES 672 has dual SO-DIMM slots to support up to 16GB DDR3L 1600MHz memory and offers various display outputs—DisplayPort, HDMI, DVI, VGA, and dual 18-/24 LVDS—LAN connection, and Wi-Fi/3.5G expansion through NEXCOM carrier board ICEB 8060.
To facilitate rapid deployment of project designs, NEXCOM is offering ICEK 8060-T6 Starter Kit which includes NEXCOM type 6 COM Express compact module ICES 672, reference carrier board ICEB 8060, built-in 4GB system memory, pre-installed trial version of Microsoft Windows® 7, bootable 8GB CFast-SSD, 10.4" LCD panel, and Flex ATX power supply. With the development toolkit, users can immediately assess the full set of I/O functions supported by ICES 672, quickly come up with design modifications, and therefore accelerate project implementation.
Main Features
5th generation Intel® Core™ i7/i5/i3 processor
Dual SO-DIMMs for up to 16GB of DDR3L 1600Mhz
Support three independent displays with DisplayPort, HDMI, DVI, VGA, and dual 18-/24 LVDS outputs
2x USB 3.0, 8x USB 2.0, 4x SATA 3.0, 4x PCIex1, WDT, GPIO, I2C
Dimension 95 x 95mm (WxL)
Ordering Information
ICES 672-4300U (P/N: TBD)
COM Express Type 6 Compact module with 5th generation Intel® Core™ i7/i5/i3 processor MCP/2C, 1.9GHz/DDR3L without ECC/PCIe/ HDMI/VGA/SATA/GBE
ICES 672-2980U (P/N: TBD)
COM Express Type 6 Compact module with 5th generation Intel® Core™ i7/i5/i3 processor MCP/2C, 1.6GHz/DDR3L without ECC/PCIe/ HDMI/VGA/SATA/GBE