To meet up with IoT trend, NEXCOM is going to present its intelligent systems at Embedded World, from February 25 to February 27 at Booth No. 530 at Hall 2. The Intelligent systems cover from dedicated computers for vertical markets, industrial wireless solution, to a full spectrum of latest ARM SoC and x86 embedded boards.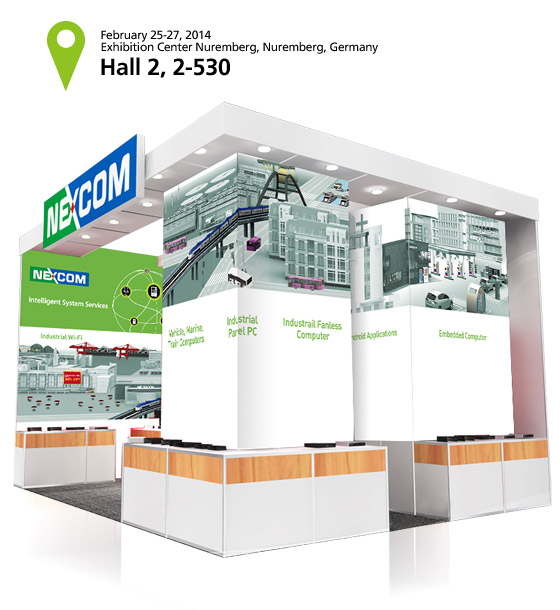 Specializing in vertical market applications, NEXCOM devotes to develop and design dedicated intelligent systems, such as industrial fanless controller, industrial Panel PC, marine computer, railway computer, digital signage player, and in-vehicle computer so on and so forth. The less cost yet upgrading solutions are expected to be at the center of spotlight. For example, the NISE 300 fanless computer advocates M2M factory with 6 mini-PCI3 Expansion capabilities. It can support fieldbus protocols (PROFITBUS, DeviceNet, EtherCAT, PROFITNET, CANOpen, MODBUS), network connectivity (GbE LAN, Wi-Fi, GSM), storage (mSATA) and other I/O interfaces (GPIO, RS232/422/485). In addition, the heavy-duty industrial Panel PC IPPC 1960T is another eye-catch. It delivers irresistible CP value with the same cut-out size and premium quality as SIMATIC Panel PC, but 50% less in price!
To respond the challenges of real industrial requirement and fulfill critical applications, NEXCOM Industrial Wireless Solution (IWS) is an industrial grade Wi-Fi series with features value-added solution built on top of trusted connectivity including Managed Industrial Wi-Fi (IWF), Security Wi-Fi (SWF),and Hotspot Wi-Fi (HWF) for both enterprise and industrial segments. At Embedded World, NEXCOM will its Wi-Fi solutions, which offer multi-hopping, P2MP offloading, fast roaming, and mesh networking, in outdoor/industrial working environments.
In addition, the most popular ARM SoC in real applications, such as HMI, home automation, data kiosk, handheld, and tablet PC, will be showcased. At the meantime, the x86 boards, in forms of 3.5" board, mini-ITX, micro ATX, and macro ATX, will demonstrate the latest technologies of 4th generation Intel® Core™ and 4th generation Intel® Atom™ E3800 family processors. Cordially invite you come and visit NEXCOM to obtain handful latest industrial technologies to build a smarter world!
Event Details
Date: February 25-27, 2014
Exhibition Center: Exhibition Center Nuremberg, Nuremberg, Germany
Booth: Hall 2, 2-530