NEXCOM will showcase its latest digital signage players for versatile solutions at the Integrated Systems Europe (ISE) Exhibition, which takes place from February 4 to February 6 in Amsterdam RAI, Netherland. The lineup covers applications from retail, food service, education to transportation. In addition, NEXCOM will also exhibit new digital signage technologies based on 4th generation Intel® Core™ and Intel® Celeron® processors.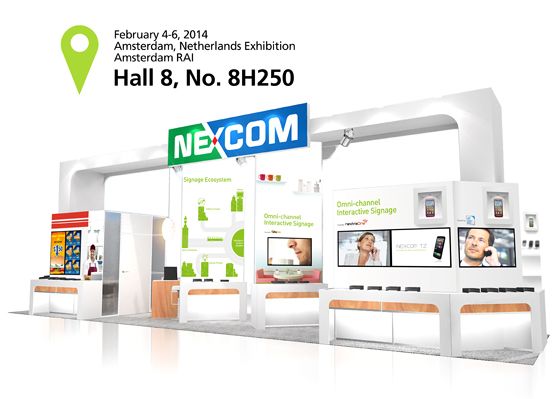 For retail applications, the NDiS B533 will be on display to show how the digital signage player redefines customer experience in a smart stunning and secure way. Based on the 4th generation Intel® Core™ processor family (formerly codenamed "Haswell"), NDiS B533 offers improved computing and graphic performance as well as enhanced security in a reliable design. NDiS B533 can address the needs of customer and context-aware interaction, delivering engaging experience and compelling visuals while securing the content against unauthorized access.
The next model, NDiS B324, will demonstrate live tracking boards that provide real-time travel information for transportation signage in airports, train stations and bus stations. Powered by Intel® Celeron® processor J1800, NDiS B324 can handle massive data processing and provide up-to-date information, letting passengers know when and where they need to be at all times. For example, NDiS B324's application in airports can help guide travelers to their corresponding check-in counters and departure gates, and offer wayfinding and directories of points of interest.
For digital signage applications in the education sector, NEXCOM's NDiS M533 OPS media player will highlight features designed to facilitate students' learning, which include elevated viewing experience, quick interactive response and 4K Ultra HD content. Featuring the 4th generation Intel® Core™ i5-4400E processor, the NDiS M533 combines premium graphics capability, improved system responsiveness, convenient remote manageability, and abundant peripheral expansion into the OPS form factor. The NDiS M533 is a persuasive communication media which can benefit education, retail and enterprise segments.
NEXCOM's video wall player, NDiS B862, will also make an immersive appearance at the exhibit, driving multiple displays for digital menu board applications. Based on the dual/quad-core AMD Embedded R-Series APU platform and a dedicated AMD Radeon™ E6760 GPU, NDiS B862 provides superior graphic performance at 6K x 2K resolution on tiled displays. Furthermore, NDiS B862 is equipped with six HDMI display outputs to allow seamless display of images and videos across multiple screens.
Cordially invite you to visit NEXCOM at ISE to discover successful digital signage applications in vertical markets.
Event Details
Date: February 4-6, 2014
Venue: Amsterdam, Netherlands Exhibition
Center: Amsterdam RAI
Booth: Hall 8, No. 8H250