NEXCOM desktop security hardware DNA 120 supports Intel® Advanced Encryption Standard (Intel® AES) to provide secured network communication for small and home office networks. The palm-size DNA 120 based on Intel® Atom™ processor E3800 product family (formerly codenamed "Bay Trail") integrates Intel Advanced Encryption Standard, four LAN ports and Wi-Fi expansions. This fanless desktop security hardware can provide reliable network connectivity to transmit encrypted data over secure communication channels and block unauthorized network access, protecting both wired and mobile internet devices in the workplace from network security threats.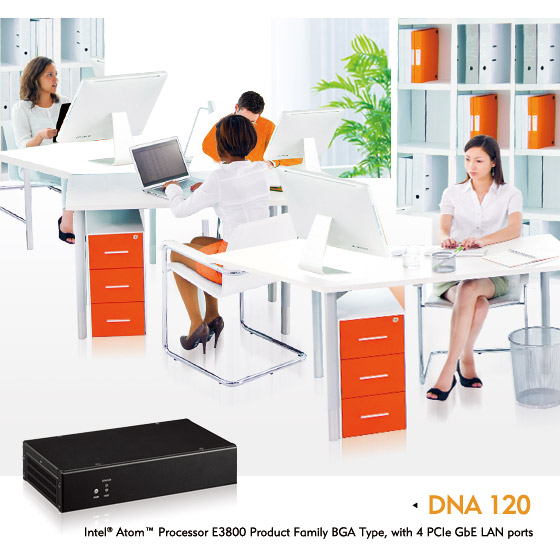 NEXCOM DNA 120 is built with Intel Atom processor E3815, running at 1.46GHz. Based on the 22nm Silvermont microarchitecture, the DNA 120 features high performance per watt and supports up to 8GB of DDR3 1066 memory. Integrated with the Intel® AES instructions, the DNA 120 can accelerate data encryption and decryption to prevent data breaches. This desktop security hardware can handle more network sessions and is designed to be used as either a VPN that enables more internet devices to reside on or a firewall to detect and to stop suspicious network traffic, creating a protected network environment.
The DNA 120 with four GbE LAN ports can not only connect to internet device but also permit redundant outbound path setup. Meanwhile, the Wi-Fi connectivity is also supported through mini-PCIe expansion, allowing the DNA 120 to put mobile devices including laptops, smartphones and tablets a behind security shield.

The DNA 120, based on 5-Watt SoC Intel Atom processor E3815, is a palm-size fanless desktop security hardware, which offers energy efficiency, requires little maintenance, makes little noise, takes up little space, combining valuable qualities that suit requirements of SOHO networks.
Main Features
Intel® Atom™ Processor E3815
Support up to 8GB of DDR3 1066 memory
Four GbE LAN ports
One mini-PCIe slot for Wi-Fi module
Fanless design
Ordering Information
DNA 120 (P/N: 10L00012000X0)
4th generation Intel® Atom™ processor E3815 single core, BGA type, 1 DDR3 SO-DIMM slots, 4 Copper LAN ports, SATA DOM socket, USB ports, VGA port, mini-PCIe slot (Option)