Industry 4.0 defines large-scale deployment of all-IP-based technology in the manufacturing levels to seamlessly integrate material handling systems, production automation systems, and enterprise IT systems. To realize smart factory, NEXCOM PC-based intelligent systems offer cost and engineering efficiency, helping users easily upgrade existing legacy automation systems to smart-factory-ready infrastructures.
At Hannover Messe 2014, from April 7 to April 11 at Booth D15 in Hall 9, NEXCOM will demonstrate its total solutions that bring in cyber-physical systems networking to construct a future of smart, green, and urban production. At this show, visitors will see these intelligent systems – all featuring IP-based architecture, high computing power, fieldbus protocol communication capability, and flexible programmable automation software tools. In addition, four thematic solutions – PC-based factory automation, PC-based machine automation, intelligent systems, and industrial wireless – will demonstrate how users can rapidly build a smart factory in a cost effective manner.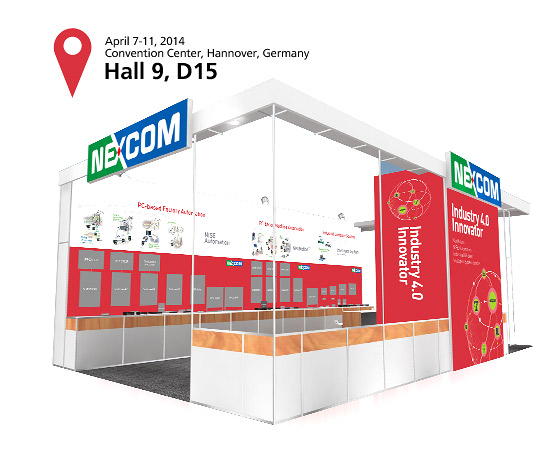 PC-based Factory Automation
NEXCOM consolidates industrial automation fieldbus and SoftPLC onto its Factory Automation solution to offer highly reliable PC-based automation control system. NEXCOM's NISE Automation solution is not only full IP-based but also compatible with advanced control networks using such as PROFINET, PROFIBUS, EtherNet/IP, DeviceNet, and EtherCAT. The NISE Automation solution can easily work with world-class HMI/SCADA software.
In addition, as a technical partner of Germany-based 3S-Smart Software Solutions, NEXCOM also provides NISE Automation solution with CODESYS Control RTE, which is the same control kernel used by major automation providers, including Schneider Electric, ABB, Beckhoff, and B&R. At Hannover Messe, visitors will see live demonstrations of NEXCOM solutions for such as water treatment, fieldbus concentrator, steel processing and AOI, and machinery HMI.
PC-based Machine Automation
To lay the groundwork for Industry 4.0, NEXCOM's leading machine automation solution, NexMotion™, provides the combination of advanced embedded computing and automation technology to harness the capabilities of smart machines. NexMotion's full spectrum of product lines include NET series, PAC series and MAC series, all featuring open architecture, integrated and decentralized designs to meet a range of needs of industrial automation applications. At this show, visitors can see live demonstration of NEXCOM solutions for robot, GMC, and CNC.
Intelligent Systems
NEXCOM's intelligent systems – NISE, NIFE, and Industrial Fieldbus PPC series – combine PC technology, fieldbus interface, and fanless design into a single platform. In addition to robust hardware, these systems also come with a fieldbus configuration tool similar to common PLC programming software. With a user-friendly interface, engineers can use the tool to configure all the supported fieldbus protocols without any additional training.
NEXCOM's PC-based controller supports fieldbus technologies such as PROFINET, PROFIBUS, EtherNet/IP, DeviceNet and EtherCAT. Unlike most slave-only solutions, NEXCOM's NISE, NIFE, and PPC intelligent system series support both master and slave interfaces, and are certified by Hilscher, an expert in industrial communication, to deliver reliability-proven solutions.
Industrial Wireless Solution
Today, Wi-Fi applications have been implemented not only in office, but in diverse industries. To respond to the challenges of industrial environments and to fulfill critical applications' need, NEXCOM's industrial wireless solution features reliable connectivity and is capable of handling high client density, meshing, roaming, multi-hopping, redundancy, and centralized management. At this show, visitors will see feature demonstration of NEXCOM industrial Wi-Fi solutions which can be applied to highway surveillance, bus station video and data upload, and steel mill etc.
Event Details
Date: April 7-11, 2014
Venue: Convention Center, Hannover, Germany
Booth: Hall 9, D15