At Mobile World Congress 2014, NEXCOM demonstrated its high CP value communication appliances and industrial grade Wi-Fi solutions with great customer interest and response.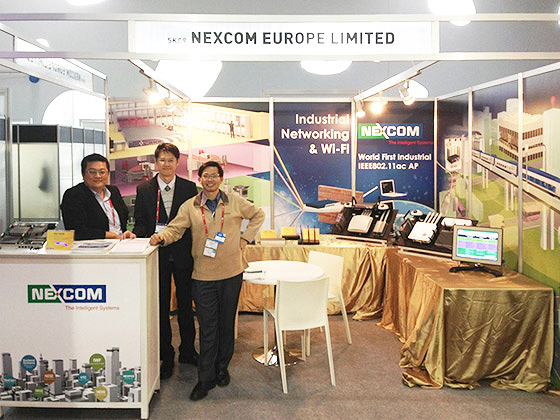 NEXCOM's IWF 3432XR, industry's first 802.11ac industrial Wi-Fi , made its debut at MWC and became one of the highly sought-after products. Armed with 802.11ac and 3 radios, the IWF 3432XR demonstrated how it can provide high-density connection of up to 384 concurrent devices and wireless speed of 1.3Gbps to meet the surging demand for increased mobile device access in both enterprise and industrial networks. Furthermore, the IWF 3432XR also displayed how its wide operating temperature of -40 to 80 degrees Celsius, dual WAN connection, dual redundant power and centralized mesh management provided reliability and manageability for large industrial wireless networks.
The communication appliances NSA 5150 also garnered widespread interest at MWC with its scalable design. The NSA 5150 exhibited how it can be configured with eight to sixteen GbE ports, 10GbE fiber ports with LAN module, and one PCIe card to give network performance an extra boost. NEXCOM also highlighted its NSA 5150 capability to support a wide range of processors including Intel® Xeon® E3 family, 4th generation Intel® Core™, Pentium®, and Celeron® processors, which can fulfill a multitude of application requirements, particularly for network security vendors in pursuit of a scalable platform for both entry-level and high-end applications.
In addition to NEXCOM networking security platforms, NEXCOM industrial Wi-Fi solutions were also on display to show how they offered reliable connectivity for outdoor Wi-Fi applications. Features such as centralized mesh management and fast roaming were highlighted to advertise NEXCOM industrial Wi-Fi solutions' capability to provide network redundancy and seamless mobility for outdoor wireless infrastructures.