To keep up with the latest innovations of intelligent security surveillance, be sure to visit NEXCOM's booth 6209 at Secutech 2014. The exhibition takes place from March 19th to 21st at the Nangang Exhibition Centre in Taipei, Taiwan. At Secutech, NEXCOM will present a full range of solutions of digital security surveillance covering from retail shops, enterprises, transportation to border surveillance.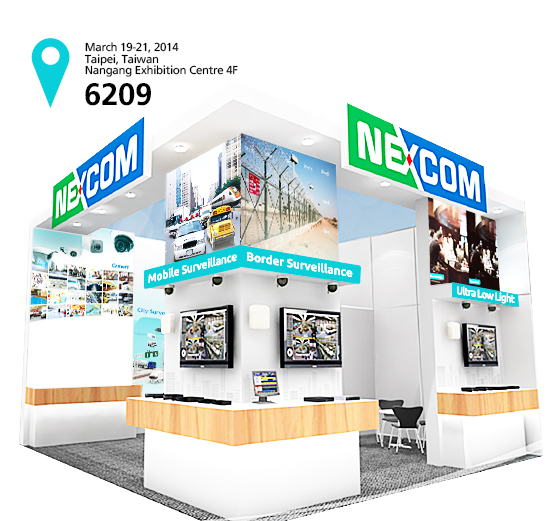 As demands for security surveillance are on the rise, NEXCOM not only provides a wide range of megapixel IP cameras to overcome diverse and challenging environments, but also offers integrated surveillance solutions including NexNVR systems and NexCam IP cameras to provide a complete package.
NEXCOM will showcase the latest box digital-WDR camera, NCb-221, which has the capability to deliver enhanced performance in ultra-low light environments. The digital-WDR function of NCb-221 is able to overcome various lighting conditions and provide clear image output, making NCb-221 suitable for building and small shop surveillance applications. As part of NEXCOM's integrated surveillance solutions, the NCb-221 can transmit images to the security surveillance system NViS 5604. The tower NVR NViS 5604 supports LGA 1150-based 4th generation Intel® Core™ processors in a compact design for retail or SBM applications. Incorporating an all-in-one embedded server board, NViS 5604 provides high quality digital recording, real-time display and supports a wide range of megapixel IP cameras.
For border surveillance, the outstanding 3 megapixel IP camera NCr-301-RF can detect radio waves and identify abnormal signals, which are ideally suited for strengthening border security for military and cross-border nations. NEXCOM will present a live demo showcasing how the NCr-301-RF, in conjunction with the mobile NVR NViS 3542P4, visualizes and detects abnormal radio waves. Based on the 32nm Intel® Core™ i7/ i5 processor, the NViS 3542P4 features Intel® Turbo Boost, supports up to 8GB of DDR3 800/ 1066 memory and offers a wide variety of display I/O configurations and rich I/O interfaces, including 2 x Intel® GbE ports, 5 x COM ports, 6 x USB, 8 x GPIO, 2 x SATAII, 2 x eSATA and audio interfaces.
For transportation application, mobile IP camera NCb-231 offers image stabilization function to provide clear images on uneven and rugged roads. Equipped with 2/3" Full HD progressive scan CMOS image sensor and global shutter, the NCb-231 has excellent performance to help users easily capture objects in high-speed motion. Thus, the NCb-231 is ideal for transportation applications such as vehicle license plate recognition. In addition to security surveillance, NEXCOM will also showcase its Industrial Wireless Solution. The industrial Wi-Fi IWF 5320 is specially designed with mesh and fast roaming functions, which can enhance wireless coverage and mobility to provide uninterrupted connection and reliable wireless video transmission.
Cordially invite you to visit NEXCOM at Secutech to discover successful security surveillance solutions in vertical markets.
Event Details
Date: March 19-21, 2014
Venue: Taipei, Taiwan
Center: Nangang Exhibition Centre 4F
Booth: 6209