With the rise of cloud, mobility, IoT and AI, the big data explosion is accelerating. According to analytic research, there will be 75 billion Internet-connected devices by 20201, and forecast that by 2025 data will exponentially grow by 10 times and reach 163 zettabytes2, which we have a long way to go in harnessing the power of this data.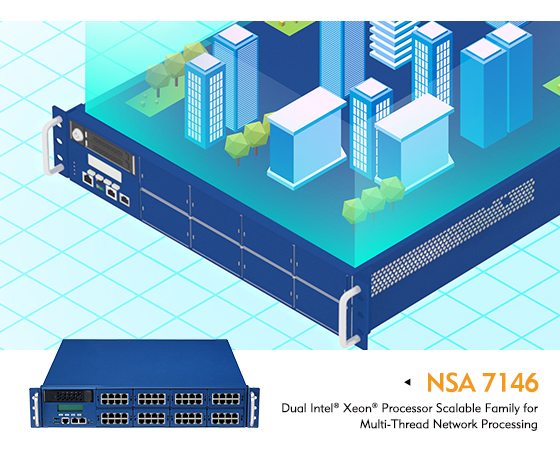 NEXCOM, the leading network security appliance design and manufacturing company, unveils the NEXCOM NSA 7146, a network security appliance powered by 2nd generation Intel® Xeon® Scalable processors which deliver reliable next-generation network equipment to help customer to face the challenge in the data centric innovation era.
In collaboration with Intel, NEXCOM plans to verify the NEXCOM NSA 7146 as an Intel® Select Solution for Visual Content Delivery Network (Intel® Select Solution for Visual CDN). Intel® Select Solutions are workload-optimized configurations that have been verified by Intel, meet benchmarking results, are easy to deploy and deliver agile and flexible infrastructures.
NEXCOM NSA 7146 is designed for network security appliances and ADC hardware platforms. Powered by 2nd generation Intel® Xeon® Scalable processors, Intel® QuickAssist Technology (Intel® QAT), maximum 512GB DDR4 memory, IPMI and management port and 24x7 service design, NSA 7146 fulfills the needs of next-generation network equipment, as well as balances network security and performance while keeping the traffic flow efficiently. It's ideal for applications such as firewall, anti-malware, malicious website protection, intrusion prevention system, DDOS prevention, botnet protection and advanced threat protection.
Main Features
2U, 19'' rackmount, 550mm depth enclosure
2nd generation Intel® Xeon® Scalable processors
Intel® QAT provides cryptographic and compression acceleration
Max. 512GT/s bandwidth via 8x swappable LAN modules
IPMI supported by BMC for out-of-band management
Design for 24x7 services via swappable SSD, fan and power supply modules
Ordering Information
NSA 7146 (P/N: 10S00714600X0)
2nd generation Intel® Xeon® Scalable processors network security appliance supports Intel® QAT technology, max. 512GB DDR4 2933 ECC RDIMM memory, TPM1.2/2.0, LCM, RJ45 console, IPMI and management port, 2x swappable SSD bays, 8x LAN modules slots, and 750W redundant PSU
Source
1: Business Insider, Morgan Stanley, 2013
2: International Data Corp (IDC)