NEXCOM PC-based IoT controller solution NIFE 300 accelerates the migration of automation systems to cyber-physical systems for smart manufacturing. Boosted by 6th generation Intel® Core™ processors i5-6500TE and i7-6700TE processors (codename Skylake), the NIFE 300's open architecture features high interoperability to provide a unified infrastructure, communication network, and programming tool for factory floors and company offices, regaining speed, efficiency, and agility in manufacturing.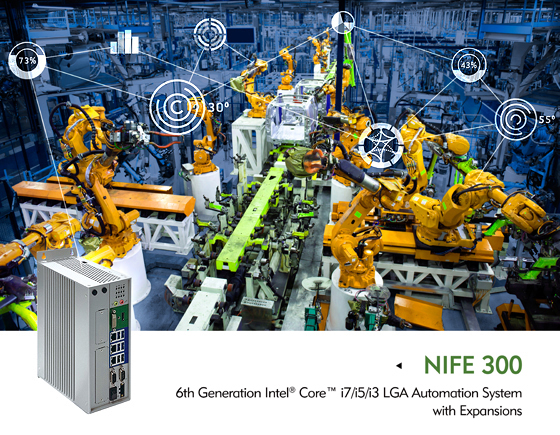 "Smart manufacturing depicted by the Industry 4.0 underlines the tight coordination between the cyber world and physical manufacturing systems. To spur such coordination, NEXCOM's latest innovation, the Intel® Core™-based NIFE 300 solution, provides high level of interoperability for orchestrating factory machinery and production lines and reaching beyond factory networks to enterprise networks. The convergence of two once separated domains can translate into streamlined manufacturing and business processes and shorter lead time." said Joe Lin, General Manager of NEXCOM's IoT Automation Solutions Business Group.
Intended for large-size machinery and distributed control systems with hundreds of control nodes, the NIFE 300 simplifies integration and expansion of nodes with its PC-based open architecture and uplifts protocol barriers with real-time industrial Ethernet technology of EtherCAT and fieldbus communication. Different subsystems and PLCs can be put under the governance of the NISE 300 with synchronization latency controlled at the level of a tenth of millisecond; functions like machine vision-based guidance, inspection, gauging, and identification can be flexibly integrated through front PCI and PCIe interfaces.
"The 6th generation Intel® Core™ processors' blazing fast CPU performance is well suited for compute intensive applications such as motion control while their stunning 3D graphics and Ultra HD 4K support allows human machine interfaces (HMI) to display fine work details and smooth 3D process simulations." said Samuel Cravatta, product line director, Internet of Things Group, Intel.
To address high mix low volume production needs, the NIFE 300 allows easy control programming via CODESYS Control RTE and CODESYS SoftMotion tool kit. Using libraries of reusable logic and motion functionality, control schemes can be developed with reduced programming efforts for fast deployment of SoftPLC and IoT controllers. To further facilitate manufacturing management, the NIFE 300's HMI software gives a big picture of working processes and system status through either a local HMI station or a web-based HMI.
The NIFE 300 takes manufacturing a step further by connecting factory networks to enterprise networks over Gigabit Ethernet. The connection gives the NIFE 300 access to manufacturing execution systems (MES) and enterprise resource planning (ERP) systems among others, letting manufacturers to make to orders with agility.
NEXCOM has developed a comprehensive series of IoT controller solutions for cyber-physical systems in Industry 4.0, which is comprised of Intel® Core™-based NIFE 300, Intel® Celeron®-based NIFE 200, and Intel® Atom®-based NIFE 100 to offer scalable computing performance along with robust electromagnetic interference (EMI) protection for use in electronic noise-prone industrial environments.
Main Features
PC-based open architecture powered by quad-core Intel® Core™ i7-6700TE or i5-6500TE processor
High interoperability for easy expansion and integration of control nodes and subsystems
Real-time Industrial Ethernet technology of EtherCAT and fieldbus communication
HMI access via local station and mobile devices
Simplified programming with CODESYS Control RTE and CODESYS SoftMotion tool kit
Gigabit Ethernet to integrate factory and enterprise networks
Front access to all interfaces
Fanless design and EMI protection for high system reliability
Ordering Information
NIFE300 system (P/N: TBD)
NIFE300P2 system (P/N: TBD)
NIFE300P2E system (P/N: TBD)
NIFE300P3 system (P/N: TBD)
NIFE300E16 system (P/N: TBD)
I24V, 120W AC to DC power adapter w/o power core (P/N: TBD)