NEXCOM's fanless railway computer, VTC 6210-R series, is made for reliable event recording and communications. Using quad-core Intel® Atom™ processor E3845, the versatile railway computer conducts onboard missions such as rail data collection gateways and graphics-intensive surveillance recorders. Rich, lockable I/O ports and dual SIM connectivity allows fast deployment, real-time data collection, and wireless transmission. To maintain the integrity of surveillance video, event records, and operation data, the VTC 6210-R series offers high level protection against surge, vibration, extreme temperatures, and electromagnetic interference with isolation and EN50155 certification.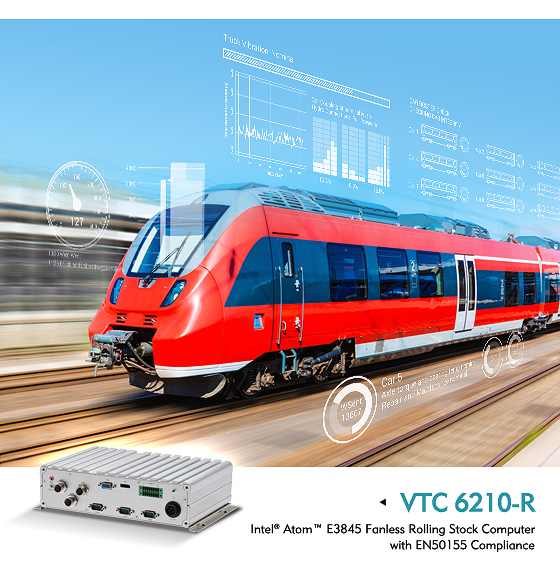 Equipped with lockable connectors and isolation protection, the railway computer provides steady power supply and I/O connectivity against vibrations and sudden power surge. Rich I/O interfaces including GPIO, CAN Bus, LAN, and USB simplify installation and can be integrated to record data including train speed, position, brake temperature, and door operations. Operators can further leverage these data for preventive maintenance and optimized reliability and availability.
To ensure uninterrupted and redundant controller-pilot communications, the railway computer equips triple mini-PCIe and two SIM card holders for comprehensive communication via 3G, 4G, and Wi-Fi transmission beyond geographical restraint.
Supporting one 2.5-inch hard disk with up to 2TB capacities, the railway computer can store event data, passenger information display (PIS) files, or writing-intensive surveillance recording. Additional CFast socket is available for dedicated OS running, thus simplifying PIS content update and drive replacement without losing OS data and configuration. Most importantly, VTC 6210-R series is EN50155 certified, safeguarding these data from electromagnetic interference, shock, and extreme temperature variations from -40 to 70 degree Celsius.
Main Features
Quad-core Intel® Atom™ processor E3845
Compliant with EN50155 and wide temperature durability
4x DI and 4x DO with isolation
2x RS232 and 1 x RS422/485 with isolation
3x mini-PCIe socket expansion
Supports three SIM cards and dual WWAN modules
Built-in CAN Bus 2.0B
Ordering Information
VTC 6210-RA (P/N: 10V00621003X0)
24/36 VDC input, Intel® Atom™ processor E3845 1.91GHz CPU, 2GB DDR3L SO-DIMM, VGA/DP output, 2x LAN, 2x RS-232, 1 x RS-422/485, 4x GPIO, 3x USB
VTC 6210-RF (P/N: 10V00621005X0)
110 VDC input, Intel® Atom™ processor E3845 1.91GHz CPU, 2GB DDR3L SO-DIMM, VGA/DP output, 2x LAN, 2x RS-232, 1x RS-422/485, 4x GPIO, 3x USB