NEXCOM's type 6 COM Express compact ICES 5100 series upscales 3D and 4K graphics for virtual reality (VR) stimulators in medical education and training. Accelerated by 6th generation Intel® Core™ processor i5-6300U (codename Skylake), the ICES 5100 series boosts imaging performance with next-generation HEVC/H.265 codecs, DDR4, and high-speed I/O, thus helping build a more engaging, interactive, and accurate training context.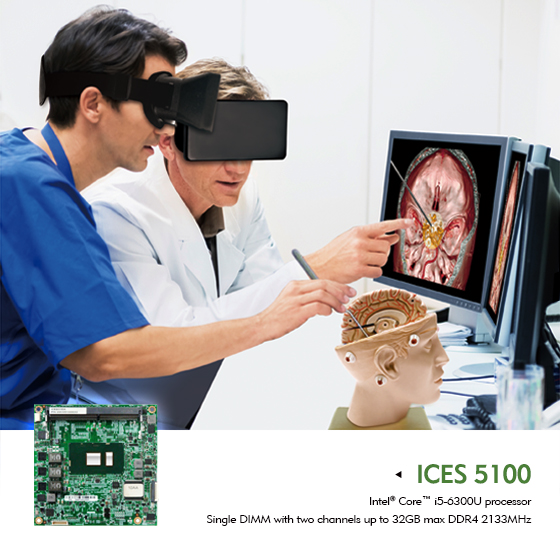 With latest Intel® HD Graphics and HEVC codecs, COM Express ICES 5100 series supports 3D imaging and 4K streaming in low latency so that surgical data can be synthesized into an immersive, 3D graphical environment. Designed for such memory-intensive VR applications, ICES 5100 series features single DIMM with two channels up to 32GB max DDR4 2133MHz, which enhance the accuracy for eye-hand coordination and simulated surgical actions.

The COM Express ICES 5100 series is also highly flexible in display outputs and I/O expansions. Triple independent displays support eDP, HDMI, DisplayPort, and DVI interfaces allowing integrations with touch screen monitors. Swift PCIe Gen3 and USB 3.0 ensure high quality video footage captured by cameras can be fast transmitted and further analyzed. Healthcare professionals and trainees can leverage these for close-up examination, remote monitoring, and diagnosis.

The COM Express supports Windows® OS including earlier Windows® 7, Windows® 8.1, to latest Windows® 10.
Main Features
Intel® Core™ processors i5-6300U
Single DIMM with two channels up to 32GB max DDR4 2133MHz
Support eMMC 5.0 up to 16GB
Support three independent displays with eDP and 2x DDI (HDMI/DisplayPort/DVI)
5x PCIe x1, 4x USB 3.0, 8x USB 2.0, 3x SATA 3.0 and GbE
Support for Windows® 10
Ordering Information
ICES 5100A (P/N: TBD)
Intel® Core™ i5-6300U processor, type 6 COM Express compact module, 2x SO-DIMMs non-ECC DDR4 (2133MHz/32GB), 5x PCIe x1, 3x USB3.0, 8x USB2.0, 2x SATA 3.0, 1x GbE, 1x eDP, 2x DDI (HDMI 1.4/DisplayPort 1.2/DVI)
ICES 5100B (P/N: TBD)