To enhance system and graphic performance, whilst improving expansion options, NEXCOM has launched NEX 880, an industrial uATX form factor motherboard that supports 2nd generation of Intel® Core™ desktop processor family and DDR3 DIMM SDRAM memory module.
Featuring the 2nd generation Intel® Core™ i7/i5/i3 processor, NEX 880 achieves 20% higher system performance compared to the previous generations of CPU. With such capability, NEX 880 is excellent for applications that require rich multimedia content handling, such as gaming machines.
NEX 880 supports Intel® AMT 7.0 a feature which enables users to access highly efficient remote management over network. With management capabilities, users can remotely monitor the hardware status and perform maintenance tasks.
In addition, users also benefit from brilliant expansion scalability. With availability of PCIe X16, PCIe X4 and PCIe X1 slot, users are able to integrate additional expansion devices such as RAID card, graphic add-on card or HD (High Definition) video capture card for surveillance. NEX 880 featuring SATA 3.0 6Gb/s is able to conquer diverse requirements for different applications, such as HD video surveillance and storage server for mass data.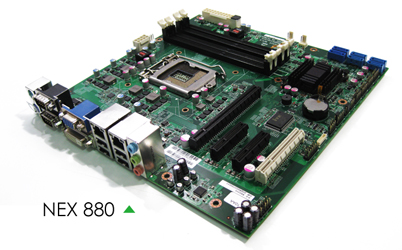 Main Features
2nd generation Intel® Core™ i5-2400
2nd generation Intel® Core™ i5-2500
2nd generation Intel® Core™ i3-2120
2nd generation Intel® Core™ i7-2600
4 x DDR3 DIMM Socket up to 16 GB
2 x Intel® Gigabit Ethernet
Support Intel® AMT 7.0
1 x PCIe x16
1 x PCIe x4
2 x PCIe x1 slots
2 x RS232