NEXCOM has released a new fanless industrial computer series NISE 3600 based on the 3rd generation Intel® Core™ processor family. The NISE 3600 series is a power mixture of scalable computing performance, flexible PCIe expansion, and high-bandwidth interfaces. In addition, this series adopts a fresh new industrial design to have reliability escalated to match up its enormous capability and functionality. The series can benefit a broad spectrum of applications including factory automation, traffic enforcement, and public infotainment.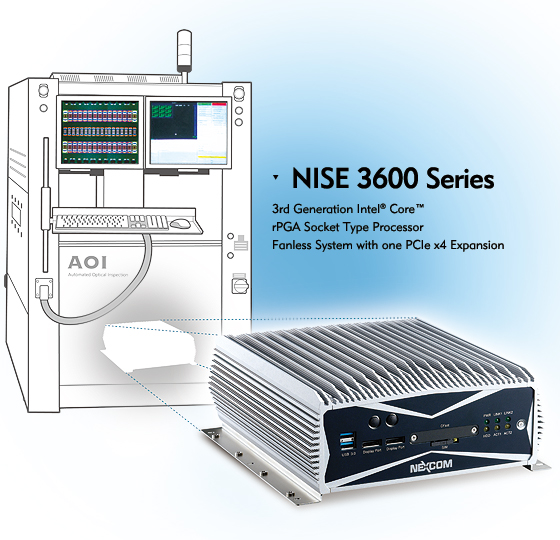 "The industrial computer is undergoing transformation to cope with rising workloads and long hour operation. The fanless NISE 3600 series based on the 3rd generation Intel® Core™ processor family will stimulate the transition of industrial computer from bulky rackmount form factor to compact and fanless design that enables simple and flexible installation" said Joe Lin, NEXCOM General Manager of the Industrial Computing Solutions Business Unit.
Maximized Flexibility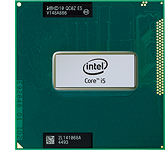 The NISE 3600 series based on the socket-type 3rd generation Intel® Core™ processor family paired with the Mobile Intel® QM77 Express chipset has up to 3.3GHz processing speed, 8GB DDR3-1600/1333 memory, and Intel® HD Graphics. This series can accomplish assigned tasks in a shorter period of time and handle sophisticated graphics with support for DirectX 11. Yet, the cross compatibility between the 2nd generation and 3rd generation Intel® Core™ processors and chipsets enables the NISE 3600 series to deliver different levels of performance to meet individual project requirements. In the meanwhile, the series can be further complemented by up to two PCIe x4/ PCI expansion cards to carry out extra tasks. Better still, it is the first NEXCOM NISE series that can simultaneously drive three independent displays via two DisplayPort and one DVI-D/VGA interfaces.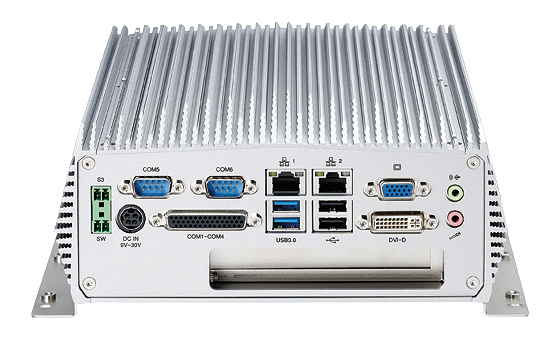 Fast and Furious
USB 3.0 interface is also introduced into the NISE 3600 series enabling tenfold increase in data transfer rate to 5Gb/s and backward compatibility to USB 2.0. With wider bandwidth, the NISE 3600 series in total provides four USB 3.0 ports, two USB 2.0 ports, two Intel® GbE LAN ports supported by Intel® 82574L GbE Controller, six serial ports and built-in wireless interfaces for Wi-Fi/ GSM expansion. Also supported are up to two 2.5" SATA 3.0 6Gb/s HDDs/ SSDs and one CFast storage unit which is located on the front panel for ease of access.
Reinforced Reliability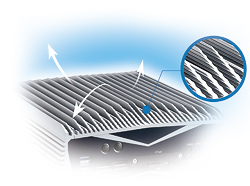 Reliability takes on paramount importance to industrial computers. With this aim in view, the cooling fins on the fanless exterior of the NSIE 3600 series have carved wave patterns to provide more surface areas for air circulation and heat dissipation.. Both allow the NISE 3600 series to achieve utmost capability and to maximize operation uptime. The NISE 3600 series accepts a wide range of 9~30V DC power input and has a broad application space. Used in automated optical inspection, it can accelerate visual inspection process and ensure production quality; used in traffic enforcement, it can monitor compliance with regulations and improve road safety; used in public infotainment kiosk, it can display information and show advertisement at the same time.
Main Features
Industrial-grade fanless design for reliable operation
Support rPGA socket-type 3rd generation Intel® Core™ processor family
Mobile Intel® QM77 Express chipset
4x USB3.0 & 2x USB2.0
Dual Intel® GbE LAN ports supported by Intel® 82574L GbE Controller
1x VGA & 1x DVI-D display output
Dual Display Port output
5x RS232 and 1x RS232/422/485
1x external CFast socket
Support 9~30V DC power input
Supports ATX power mode, WoL and PXE function