NEXCOM has rolled out 1080P digital signage player NDiS 167 in light of booming demand for embedded intelligence. Performance, connectivity, manageability are three important pillars of embedded intelligence. NDiS 167 based on the 3rd generation Intel® Core™ processor family paired with Mobile Intel® QM77 Express chipset lays great emphasis on these attributes and is poised to inject new life into versatile multimedia applications.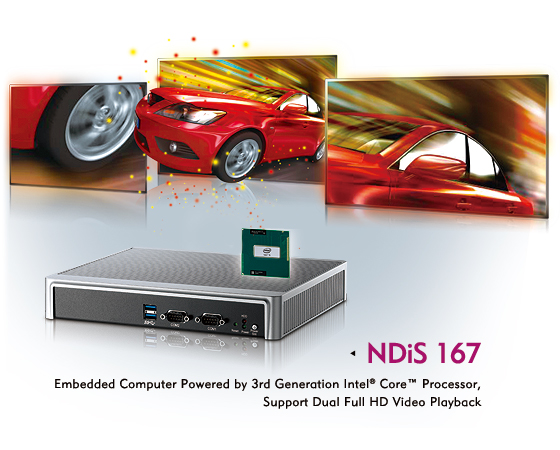 Digital signage player NDiS 167 is built on the 3rd generation Intel® Core™ processor family integrated with Intel® HD Graphics 4000. With the hardware-assisted acceleration for graphics and support for DirectX 11, NEXCOM has achieved significant progress in responsiveness and performance on NDiS 167. The digital signage player can depict great details of 3D images and play full HD multimedia content to meet ever-demanding market expectations. Better still, NDiS 167 featuring with Mobile Intel® QM77 Express chipset can support up to three independent displays, enabling more desirable content manipulation.
"NEXCOM digital signage players have proven efficiency in performance, connectivity and manageability as compared to standalone posters. Nevertheless, NEXCOM players based on the 3rd generation Intel® Core™ processor family are poised to unleash an intelligent embedded world" said Steve Wu, NEXCOM General Manager of the Multi-Media Solutions Business Unit.
"The 3rd generation Intel® Core™ processor family, which consolidates smart performance, built-in visuals, manageability, security, and versatility brings a new level of intelligence to digital signage players," says Matt Langman, director of marketing, Intel Intelligent Systems Group. "These powerful capabilities are demonstrated through the Intel® platform's support for robust anonymous video analytics (AVA), which is gaining popularity among retailers."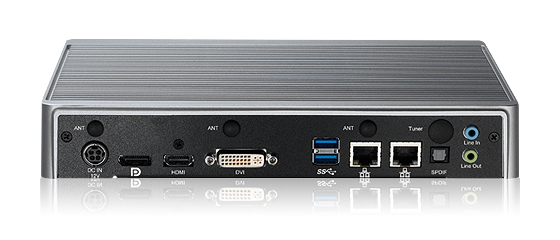 Moreover, NDiS 167 equipped with two GbE LAN ports can establish inbound network connection and reach out to the increasingly connected world at the same time. Although the network connectivity allows NDiS 167 to receive timely content updates from remote central management center, two USB 3.0 ports are also available for 5Gb/s data transmission in case of onsite maintenance. Additionally, two mini-PCIe expansion slots are provided for Wi-Fi communication and TV tuner.
Out-of-band management is another important feature of NDiS 167. The latest Intel® Active Management Technology 8.0* incorporated in the 3rd generation Intel® Core™ processor family gives IT administrators from a distance control over the player as early as the phase of BIOS setting without assistance of additional hardware.
*Intel® Active Management Technology support depends on the specifications of Intel's processors.
Main Features
Support 3rd generation Intel® Core™ i3/ i5 processor paired with Mobile Intel® QM77 Express chipset
Intel® HD Graphics 4000
Support DirectX 11
Compact and slim design
3 independent displays
USB3.0 and dual GbE LAN ports
Support WLAN/ TV tuner