NEXCOM has released a new high-end Computer-On-Module, ICES 267S, based on PICMG COM.0 Rev 1.0 specification. This Type 2 pin-out Basic Module features the 2nd generation Intel® Core™ i7-2715QE Quad-Core processors and QM67 PCH chipset, Intel® HD graphics with DirectX® 11 rendering, up to 8GB of DDR3 800/1066/1333MHz single channel memory. ICES 267S delivers amazing performance which is ideal for data and graphic intensive applications, within automation, medicine, retail, advertising, security surveillance, military and government.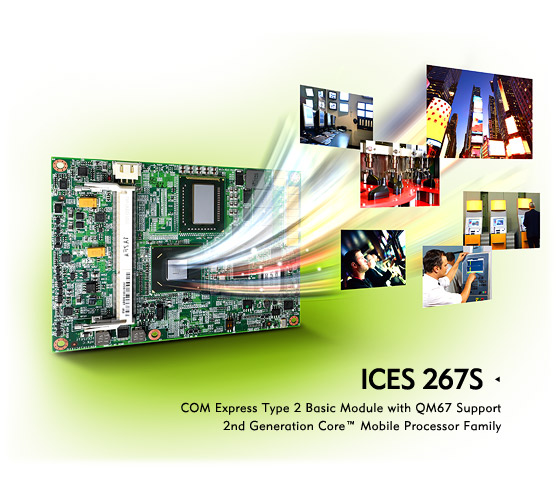 ICES 267S utilizes high performance, low power 2nd generation Intel® Core™ i7-2610UE Dual-Core processors to deliver maximum performance with low power consumption. The 2nd generation Intel® Core™ processors offers 11.3% performance improvement compared to previous generation processors, while Intel® HD graphics offer twice the graphic performance. The Computer-On-Module goes beyond HD 1080P graphics by supporting resolutions up to 2048 x 1536. To further enhance graphics rendering, DirectX 11 was added to deliver rich, multimedia and visual content. Hence, ICES 267S COM Express Basic module is also perfect for embedded multimedia applications such as gaming, interactive kiosk systems, all-in-one computers and digital signage systems.
ICES 267S supports a diverse range of displays, compatible with both older and newer 18/24-bit LVDS panels, as well as single and dual channel variants. It provides 1x Gigabit LAN, 4x SATA, 8x USB 2.0 and 6 PCIe x 1 lanes through the carrier board. Plus one 32-bit PCI and IDE interface for backward compatibility with legacy devices. NEXCOM also added exclusive SDVO support for ICES 267S, which is not defined in the COM Express Type 2 specification. This gives the PCIe x16 graphics interface the option to install SDVO adapter cards with numerous display options, such as DVI or HDMI monitor. Using low-cost SDVO solution, ICES 267S can support a broad range of different displays, greatly expanding its applications.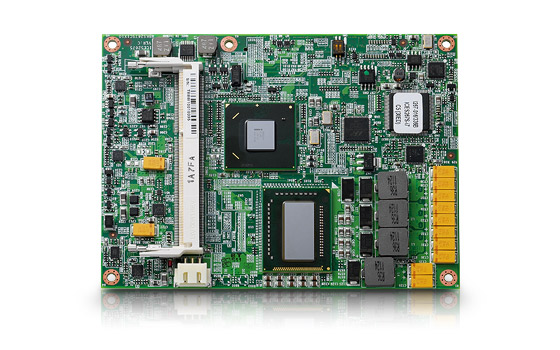 NEXCOM strives to understand and meet all customer requirements and offer the perfect solution. To achieve this, NEXCOM's COM Competence Center (CCC) provides professional consultation and customization services on designing COM Express modules and carrier boards. Our CCC ensures project success and reduces development time for developers by providing hardware and firmware design guidelines. Using modular approach, developers can focus their design efforts on the carrier board, without having to worry about compatibility issues with the COM Express modules. As NEXCOM will specifically customize the COM Express modules to work with customer-specific carrier boards, their existing carrier boards or NEXCOM's customized carrier boards. With years of industry experience and extensive knowledge, NEXCOM's CCC guarantees reduced regular development time and costs by up to 60%, delivering faster and smarter COM Express solutions.
Main Features
2nd generation Intel® Core™ i7/ i5/ i3 and Celeron® processor family
Intel® QM67 PCH chipset
1x DDR3 SO-DIMM socket support non-ECC DDR3 800/1066/1333MHz up to 8GB
Support SDVO interface
Type 2 COM Express 2.0 module supports 6 Express lanes
32 bit PCI Interface and One IDE and Gigabit LAN
Ordering Information
ICES 267S (P/N: 10K00026701X0)
COM Express Type 2, basic Module, QM67 onboard 2nd Generation Intel® Core™ i5-2515E
ICES 267S-2610UE (P/N: 10K00026708X0)
COM Express Type 2, basic Module, QM67 onboard 2nd Generation Intel® Core™ i7-2610UE
ICES 267S-i7 (P/N: 10K00026704X0)
COM Express Type 2, basic Module, QM67 onboard 2nd Generation Intel® Core™ i7-2715QE
ICES267S-B810EN (P/N: 10K00026709X0)
COM Express Type 2, basic Module, QM67 onboard 2nd Generation Intel® Celeron® B810E
ICEB 8050 (P/N: 10KB0805000X0)
COM Express Type 2 evaluation board with PCIe/ PCI/ SATA/ CF/ IDE/ COM/ USB/ LVDS/ VGA/ LAN
ICES267S F- kit (P/N: 10K00026709X00)
Active Fan Kits with heat-spreader, heat-sink and Cooling fan in-house designed for ICES 267S