NEXCOM COM Express Type 6 Basic module ICES 670 comes with a full design package, aimed to stimulate innovation of intelligent systems by facilitating system integration. Featuring the 4th generation Intel® Core™ processor family (formerly codenamed "Haswell"), the ICES 670 integrates an embedded controller (EC) and offers Embedded Application Programming Interface (EAPI). With enhanced hardware compatibility, this COM Express module can help hasten the proliferation of intelligent systems which are easy to manage.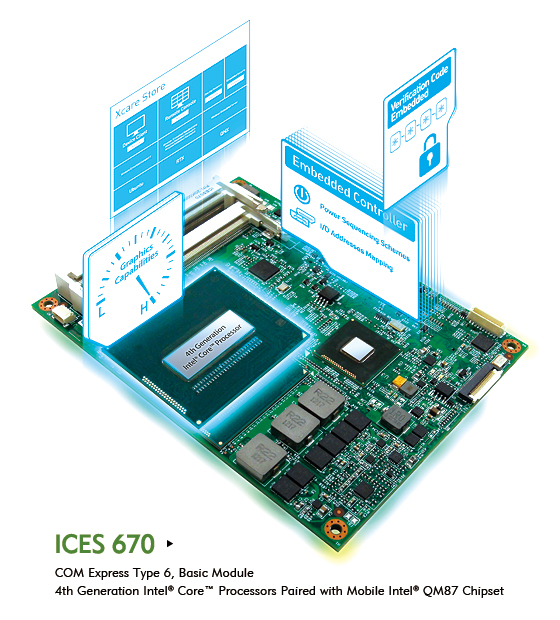 The COM Express Basic module ICES 670 is based on the 4th generation Intel Core processor family and mobile Intel® QM87 Chipset. Supporting up to a 45-Watt processor, the ICES 670 has higher computing and graphics capabilities required either to execute complicated motion control in machine automation, to speed up the image acquisition and analysis in medical imaging, or to actively interact with consumers in retail segment.
To accelerate the proliferation of intelligent systems, the ICES 670 is equipped with an embedded controller to simplify system integration. By defining power sequencing schemes and I/O addresses mapping, the ICES 670 not only streamlines the design process but also enhances hardware compatibility between COM Express modules and carrier boards, making system development and upgrade easy. In addition, a verification code embedded in the controller helps block unauthorized applications and devices to strengthen security of the intelligent system. Data cryptography is also supported by Intel® AES New Instructions (Intel® AES-NI) technology.
To simplify system management, the ICES 670 supports the Xcare 3.0, a utility that can keep track of hardware status. The API of Xcare 3.0 is compliant with PICMG EAPI standard and can provide users information on processor, RAM, BIOS, fan speed, operating temperature and more. Functions of Xcare 3.0 include hardware status monitoring, remote KVM, remote configuration and recovery of ICES 670.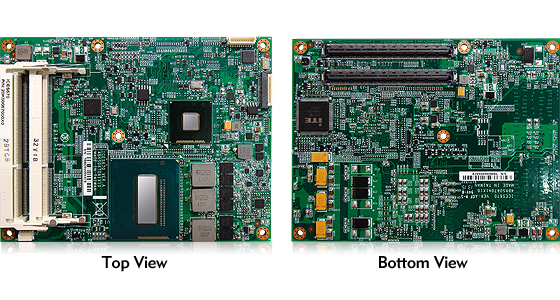 The COM Express Type 6 Basic module ICES 670 supports the latest interfaces including SATA 3.0, PCIe 3.0, USB 3.0, and DisplayPort to provide high bandwidth and throughput to sustain high responsiveness of intelligent systems.
Main Features
4th generation Intel® Core™ processor
Mobile Intel® QM87 chipset
Support PICMG COM.0 Rev. 2.1 Type 6 pin-outs
Support dual channel DDR3L/ SO-DIMMs 1333/1600MHz up to 16GB
Support PCIe x16, 7x PCIe x 1, 4x USB3.0/ 8x USB2.0, 2x SATA3.0/2x SATA2.0 and GbE
Up to 3x independent displays, VGA, eDP/ LVDS, DVI, HDMI, DisplayPort
Dimension 95 x 125mm2 (W x L)
Ordering Information
ICES 670 (P/N: 10K00067000X0)
COM Express Type 6, Basic Module, onboard 4th Generation Intel® Core™ Processors with ECC DDR3L/ 2x SO-DIMMs, Mobile Intel® QM87 Express Chipset