NEXCOM's fanless digital signage player, NDiS B533, is designed to redefine customer experience in a smart stunning and secure way. NDiS B533, based on the 4th generation Intel® Core™ processor family (formerly codenamed "Haswell"), offers improved computing and graphic performance as well as enhanced security in a reliable design. NDiS 533 can address the needs of customer and context-aware interaction, delivering engaging experience and compelling visuals while securing the content against unauthorized access.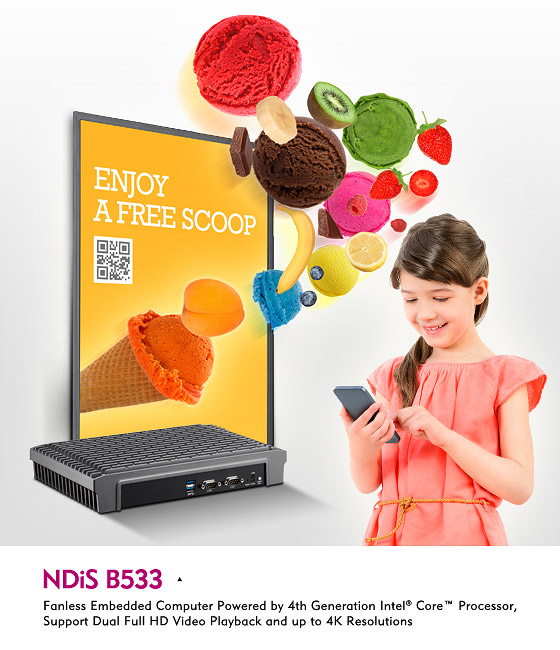 "Driven by the 4th generation Intel® Core™ processor family, NDiS B533 provides significant improvements in computing and graphics capabilities. NDiS B533 will spark a new wave of innovation to live up to the future of intelligence, where digital signage can interact with customers, customers' devices and environment while presenting dynamic targeted contents with stunning visuals to create engaging customer experience," said Steven Wu, NEXCOM General Manager of the Multi-Media Solutions Business Unit.
"The 4th generation Intel® Core™ processor family offers numerous processor and graphic enhancements with integrated technologies," said Sam Cravatta, Product Line Manager, Intel® Intelligent Systems Group "For example, Intel® Advanced Vector Extensions 2.0 accelerates integer and floating point computations to meet increasingly complex application demands such as anonymous video analytics. New graphics capabilities also enable full hardware-accelerated video decoding to allow for stereoscopic 3D visuals and faster video streaming." Adding the support for multiple displays, NDiS B533 with three HDMI interfaces, can create compelling visual experiences.

In addition to be smart and stunning, the NDiS B533 is reliable and secure. The digital signage player incorporates a fanless design in an aluminum cover for reliable operation, and uses the latest Intel® AES-NI in the 4th generation Intel Core processor family to protect signage content from tampering. The new instructions and enhancements in Intel® AES-NI allow NDiS B533 to hardware encrypt or decrypt both local and streaming contents without taxing the processor resources, safeguarding signage content that is of high value to businesses.
NDiS B533 supports the 4th generation Intel Core i7-4770TE and i5-4570TE processors and Intel® Q87 chipset. This fanless digital signage player supports up to 16GB of DDR3 memory, VESA/wall mounting, three independent displays with HDMI interface and network connections including LAN, Wi-Fi, and 3.5G or LTE. USB 3.0 interfaces and Mini-PCIe slot are also available for custom function and peripheral expansion.
Main Features
4th Generation Intel® Core™ processor
Intel® integrated HD 4600 graphic engine
Compact and Slim Design
3 Independent display
USB 3.0, Dual GbE LAN support
WLAN/ TV tuner support
DirectX 11.1 support
Enhanced 4K x 2K output support
Ordering Information
NDiS B533 (P/N: 10W00B53300X0)
4th generation Intel® Core™ processor (up to 35W) fanless system, Intel® Q87 chipset