NEXCOM ICES 268 is a COM Express Type 2 Basic module designed to prolong the use of systems by allowing them to be updated in line with evolving technologies. Based on the rPGA988-type 3rd generation Intel® Core™ processors, the ICES 268 supports up to 45-Watt quad-core Intel® Core™ i7-3610QE Processor integrated with Intel® HD Graphics 4000 and supports up to 16GB of DDR3 1600 memory. The ICES 268 can upgrade legacy systems to support PCIex16 interface, allowing more flexible expansion design on the matching carrier board.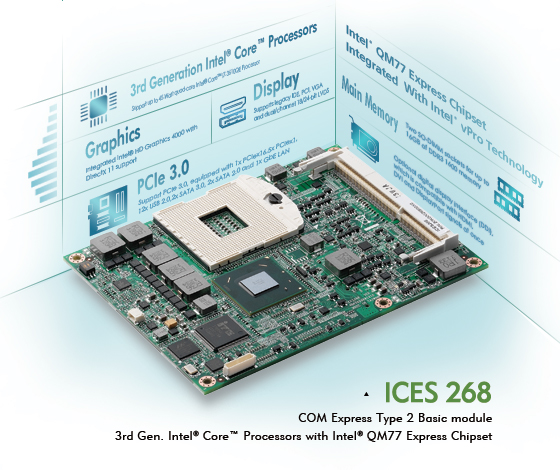 Following the Type 2 COM Express™ standard, the ICES 268 supports legacy IDE and PCI. As a supplement to the VGA and dual/channel 18/24-bit LVDS interfaces, the optional digital display interface (DDI), which is compatible with HDMI, DVI and DisplayPort signals at once, is supported by the ICES 268. Therefore, it can allow for system upgrade while working with peripheral devices using both legacy and prevailing interfaces to prolong the use of the system. By default, the ICES 268 comes with Intel® QM77 Express Chipset integrated Intel® vPro technology. A variant with Intel® HM76 Express Chipset is also available by option.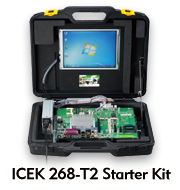 To facilitate rapid deployment of individual project designs, NEXCOM is offering ICEK 268-T2 Starter Kit to allow users to immediately assess the full set of I/O functions supported by Type 2 carrier board ICEB8050C. Along with development toolkit, users can quickly come up with design modifications and accelerate project implementation.
Main Features
PICMG COM.0 Rev. 2.0 Type 2, pin-outs
rPGA988-type 3rd generation Intel® Core™ processor family
Mobile Intel® QM77 Express Chipsets (HM76 is optional)
Up to 16 GB (2x 8GB) of DDR3 1333/ 1600 SO-DIMM
Support PCIex16 (Gen 3.0), 5x PCIex1, 12x USB 2.0, 2x SATA 3.0, 2x SATA 2.0 and 1x GbE LAN
Support VGA, dual-channel 18/24-bit LVDS and optional 1x DDI/ PEG
Dimension: 95mm (W) x 125mm (L)
Ordering Information
ICES 268 (P/N: 10K00026800X0)
COM Express Type 2, Basic module, rPGA988-type 3rd Gen. Intel® Core™ processors, QM77 Express Chipset, 2x DDR3 SO-DIMM (non-ECC)
ICEB 8050C (P/N: 10KB0805001X0)
COM Express Type 2, COM.0 Rev. 2.0 Evaluation CRB, VGA/ LVDS/ 8x USB 2.0/ 2x COM/ GbE/ LPT/ 5.1 HD/ SPDIF, CF/ IDE/ mSATA/ CFast/ PCIe x16/ PCIe x4/ PCIe x1/ PCI/ mPCIe, ATX power input
ICEK 268-T2 (The Starter Kit is subject to request)
COM Express Type 2 Basic module ICES 268 based on the 3rd Gen. Intel® Core™ processors paired with Mobile Intel® QM77 Express Chipset, reference carrier board ICEB 8050C, built-in 4GB system memory, pre-installed trial version of Microsoft Windows® 7, bootable mini-SATA or CFast-SSD, built-in 10.4" LCD panel and Flex ATX PSU AC 110/220V input