NEXCOM(China)2012 Chinese partner conference was held in Beijing Rui Lin Bay Spa Resort from June 14 to June 16, 2012 .This was not only the first plenary session for Chinese mainland partners, but was also NEXCOM's 20th anniversary. More than 200 distributor representatives from all over the country attended the meeting to share the joy of success and discuss the development plan and further cooperation.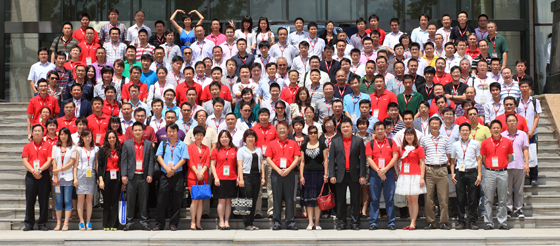 At 9:00am of June 15th, the meeting started with the theme "With sustainable development and expansion, co-create a new situation", an exciting drumming performance was performed by NEXCOM(China) six employees as the opening ceremony, which also indicated that NEXCOM (China) is growing rapidly to meet customer requirements. Then NEXCOM CEO Clement gave his speech, in which he expressed his warm welcome to all guests and reviewed NEXCOM's 20-year industry endeavor in IPC. With the support of all partners and all NEXCOMer's efforts, he said that NEXCOM was going forward at a fast and powerful pace. The picture of "NEXCOM Rise Time" gave the participants a very deep impression. Subsequently, NEXCOM(China) Marketing and Business General Manager Monet Lin, and other Directors from NEXCOM 5 BUs gave their speech respectively.
Since NEXCOM entered the Chinese mainland market in 2006, NEXCOM (China)'s performance growth increased by thousand times, NEXCOM has gradually gained a firm footing in Chinese IPC market. Experts expect that the global network intelligent terminal market is expected to reach 15 billion in 2015, and 25 billion on global embedded appliance in 2020. NEXCOM has great head room to grow in the future development.
During the conference, product demonstrations and technical seminars were held simultaneously. Fanless computer NISE 3600 series, especially the NISE 3600E, had been the highlight of the product showroom. Based on the third-generation Intel ® Ivy Bridge processor, its innovative design and support of three independent displays performance caught all vistors' eyes.
In the evening of June 15, along with a variety of programs, the dinner started. All the guests held glasses to celebrate the success of this conference and the best wishes for the future. During the dinner, Clement , Joe and Liming as NEXCOM(China) NCS Director awarded the distributors who made a great progress in various fields to recognize their outstanding achievements and motivate them with growing together with NEXCOM. One of the award-winning distributor representatives expressed their thanks to NEXCOM, he said, "During the years of cooperating with NEXCOM, it was NEXCOM'S quality, reliable products and perfect service that put us be ahead of competitors, we believe we will always be in the forefront of the market in the future. Thanks again for NEXCOM's support."
On June 16, one-day tour of Beijing Zhangyu Aifeibao International Winery was carefully provided to all the meeting guests. With the beautiful scenery sightseeing and the delicious food, everyone spent a very good day here.
In the evening, this 2012 Chinese Partner Conference came to an end. With the voice of farewell and the blessings for NEXCOM from our all partners, the conference was a great success. All NEXCOM(China) employees and all our partners strongly believe that with the sustainable development and expansion, a new situation will be co-created!