NEXCOM will demonstrate its wide range of breakthrough transportation computer technology at the InnoTrans 2012 from September 18th to 21th in Berlin, Germany. All products assembled for this noted event have been purpose-designed for train applications, mobile intelligence, fleet management and in-vehicle computing.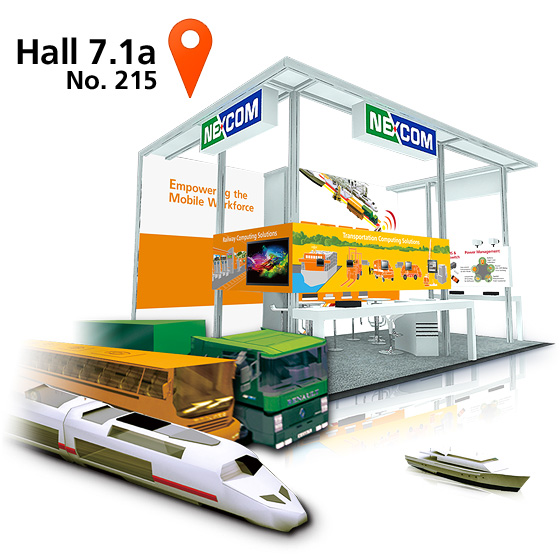 NEXCOM will showcase several of its latest train computers from the nROK series which meets EN50155 standard, such as nROK 3000, nROK 500, nROK 5000 and nROK 5500. Incorporating a rugged design and great connectivity nROK can sustain reliable network service in high-speed railway vehicles, where data can be affected by the train's fast speed and associated vibrations, plus strong interferences on and off the train.
Speaking of mobile intelligence, NEXCOM in-vehicle computer VTC 7110 series places great emphasis on the surveillance and telematics. The VTC 7110 series provides outstanding computing and graphics capabilities, seamless network connectivity, hot swappable storage units and superb product reliability. Along with flexible I/O expansions of GPIO, SAE J1939 or J1708 and PoE, the VTC 7110 series transportation computer is intended for vehicle information communication, fleet management, and mobile surveillance within heavy-duty vehicles, trucks, buses, railway, and cabs.
For the growing market for special applications, NEXCOM highly recommend three sorts of transportation computers and industrial monitors. Compliant with IP65, the rugged design of VMC3000 all-in-one vehicle mount computer makes it resistant to harsh environments from shock, vibration and dust. Thus, the VMC 3000 is an ideal solution for vehicle terminal on forklifts, straddle carriers, truck, mining vehicles, construction machines and marine.
VMD 2000 which conforms with IP54 design standards for rugged devices and with connection via a 26-pin LVDS cable, is the perfect Vehicle Mount Display Companion for the VTC series. VMD 2000 HAS multiple function key, a scalable design and daylight readability to assist users to obtain real-time information or data without troubles. It could also be utilized within many applications including light industry, warehouse, logistics and distribution center.
nTUF series marine computer stands for NEXCOM Tough Computer mainly for Marine Bridge and Control Room computing solution. The nTUF fanless computer adheres to EN60945, IACS-E10, DNV, and NMEA specifications. Combined with fanless structure and isolation protection on NEMA interfaces and DC input, the computer can deliver reliable performance even when challenged by environmental conditions at sea. It is one solid sturdy marine computer for fishing vessels, recreational boats, merchant marine, workboats, and sailing yachts.
To learn more solutions, please visit NEXCOM's booth at InnoTrans 2012.
Event Details
Date: September 18-21, 2012
Venue: Berlin, Germany
Exhibition Center: Berlin Exhibition Grounds
Booth: Hall 7.1a #215