NEXCOM has released the network security appliance DNA 125B to address the unmet needs for network connection and security of SOHO and small and medium businesses. Based on Intel® Atom™ processor E3815, the DNA 125B is a unique network security appliance built with switch function and Wi-Fi expansion support. The DNA 125B is ideal for use in antivirus, unified threat management (UTM), virtual private network (VPN), firewall, and Wi-Fi management solutions to small business networks.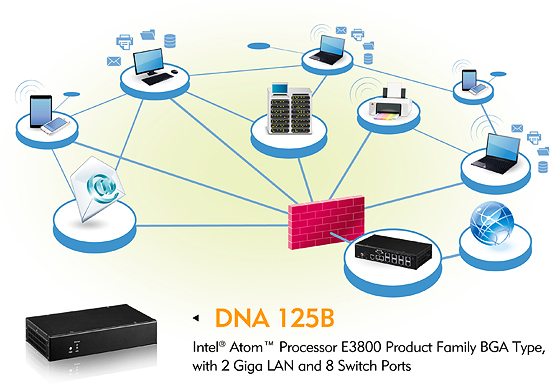 Powered by Intel® Atom™ processor E3815, the DNA 125B features two LAN ports and eight Ethernet switch ports. The DNA 125B can provide antivirus, UTM, VPN or firewall protection to ensure that a network is secure. Furthermore, the DNA 125B boasts the most ports in NEXCOM DNA series and is the first DNA model built with switch function. The new feature allows the DNA 125B to connect more devices to a network without additional switch hardware, helping small businesses reduce capital expenditure and simplify network management.
As the prevalence of mobile devices in the workplace grows, the DNA 125B also supports Wi-Fi network communication. The DNA 125B can build up Wi-Fi connectivity through mini-PCIe expansion to connect mobile devices; the DNA 125B can also be used as a Wi-Fi controller, managing and guarding Wi-Fi access points against security threats.
Main Features
Intel® Atom™ processor E3815
8GB of DDR3L SO-DIMM memory
Support two GbE LAN ports
Support eight GbE switch ports
One Mini-PCIe slot for Wi-Fi expansion
Ordering Information
DNA 125B (P/N: 10L00012501X0)
BGA type single core Intel® Atom™ E3815 processor, 1 DDR3 SO-DIMM slots, 2 Giga