NEXCOM announces the Industrial Panel PC IPPC 2160P to help supervise and oversee plant-wide manufacturing processes. Powered by 3rd generation Intel® Core™ processors, the IPPC 2160P features high performance, fieldbus networking, and rugged design and is intended for human machine interface and SCADA applications in the steel, petroleum, chemical processing, and energy industries.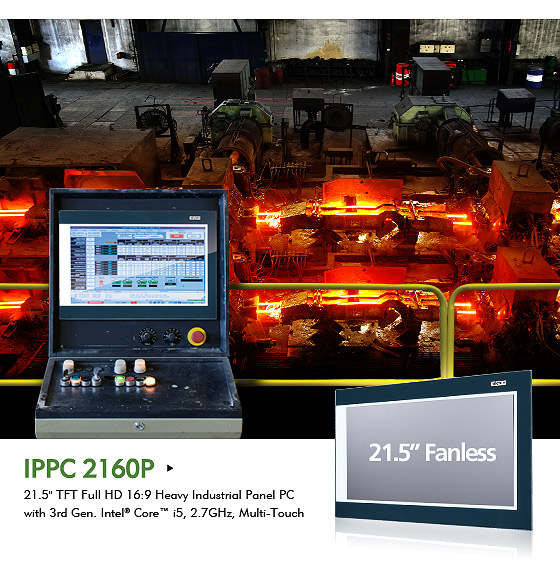 Based on 3rd generation Intel® Core™ processors, the IPPC 2160P is a high performance industrial panel PC built for HMI and SCADA applications. The IPPC 2160P can run CODESYS SoftLogic, JMobile HMI, and Citect SCADA software to provide real-time control and monitoring of production systems. Featuring a 21-inch 16:9 widescreen with full HD resolution, the IPPC 2160P can render high-level graphical interface perfectly; the industrial panel PC also supports multi-touch gestures to enable easy, intuitive, and keyboard-less operation.
To collect field data and control field devices, the IPPC 2160P supports major fieldbus technologies through mini-PCIe FBI modules to communicate with I/O systems or field devices using PROFINET, PROFIBUS, DeviceNet, EtherNet/IP and EtherCAT protocols. The IPPC 2160P also provides PCI and PCIe expansion slots to support proprietary add-on modules.
For instance, the IPPC 2160P can be configured with SIEMENS's industrial Ethernet PCI cards and installed with WinCC software to work with SIEMENS's PLCs. Better still, the IPPC 2160P has the same cutout size as SIEMENS's panel PC, representing an easy and cost-effetive alternative for users.
The IPPC 2160P is robust by design for use in heavy industries. The industrial panel PC has isolation protection on COM ports and DI/O, an IP66 rated front panel to withstand water and dust ingress, and a fanless metal enclosure with aluminum front bezel. To adapt to different power supply, the IPPC 2160P is available with both AC and DC power input.
Main Features
Fanless panel PC supports 2nd/3rd gen. Intel® Core™ processor
21.5" 16:9 widescreen 10-point touch monitor
2x 3.5G/Wi-Fi/fieldbus through mini-PCIe expansion module
A choice of 1x PCI and 1x PCIe x4, 2x PCI, 2x PCIe x4 for PCI/PCIe expansion
Support CODESYS SoftLogic, JMobile HMI and Citect SCADA
COM with isolated protection or a choice of RI, 5V and 12V
4x DI/O with isolated protection and 4x GPIO
Metal housing with robust aluminum front bezel for use in harsh environment
IP66-rated front panel, zero bezel flush front design and anti-scratch surface
AC or DC power input
Ordering Information
IPPC 2160PP2E-AC (P/N: 10II2160P00X0)
21.5" Full HD LED backlight fanless touch panel PC, Intel® Core™ i5-3610ME 2.7GHz, en points P-Cap touch screen, 4GB DDR3, 6 x COMs, 4 x 4 GPIO, 4 x 4 DI/O with isolated protection, AC power input
Riser card 2 x PCI slots (P/N: 20JK036P200X0)
Riser card 2 x PCIex4 slots (P/N: 20JK036E200X2)
Mini-PCIe FBI Module Selection Table
Photo
Model
Protocol
P/N

FBI90E-PNM

PROFINET Master

P/N: 88IA1932T00X0

FBI90E-EP

Ethernet/IP Master

P/N: 88IA1932T01X0

FBI90E-ECM

EtherCAT Master

P/N: 88IA1932T02X0

FBI90E-PBM

PROFIBUS Master

P/N: 88IA1932T03X0

FBI90E-DNM

DeviceNet Master

P/N: 88IA1932T04X0