NEXCOM's latest NViS 1410 brings 4K imaging to security surveillance with smooth recording and efficient storage. Powered by latest Intel® Pentium® Processor N3700 (formerly codenamed Braswell), the NViS 1410 features 4K footage, smooth playback, latest HEVC decoding technology (also known as H.265), and up to 6TB surveillance-grade storage. Retailers and SMB owners can watch silky and detailed video footage while having extended recording duration with economical price.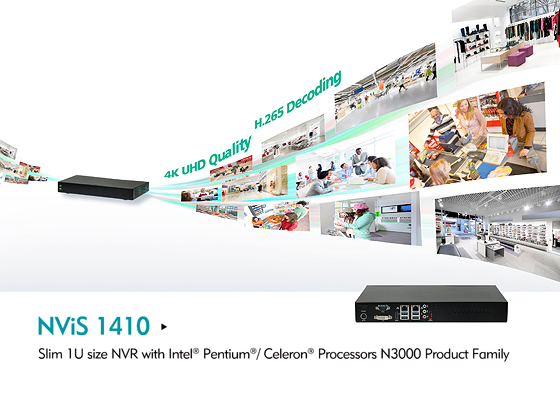 Based on 14nm Intel® Pentium® Processor N3700 and Intel® HD Graphics, the NViS 1410 delivers security surveillance with 4K resolution and smooth playback. Equipped with HDMI 1.4 and DVI-I video output, the NViS 1410 allows users to display 4K video or Full HD panoramic view consisting of four 1080p footage. The NViS 1410 also supports full HD video recording and up to 16 network cameras, catering to the surveillance need of shops and SMBs. With NViS 1410's HEVC decoding capabilities, retailers and small business owners can strategically deploy higher resolution network cameras, fisheye cameras, or PTZ cameras at areas where detail or target identification is critical including main entrances and cash registers.
Also, through the implementation of HEVC, the NViS 1410 brings security surveillance up to twice the compression efficiency compared to the previous H.264 technology. The highly efficient HEVC not only maximizes video quality at low bit rates to optimize bandwidth usage but also saves file size up to 50%. Detailed video footage and extended recording time at lower total cost of ownership are made possible thanks for the NViS 1410.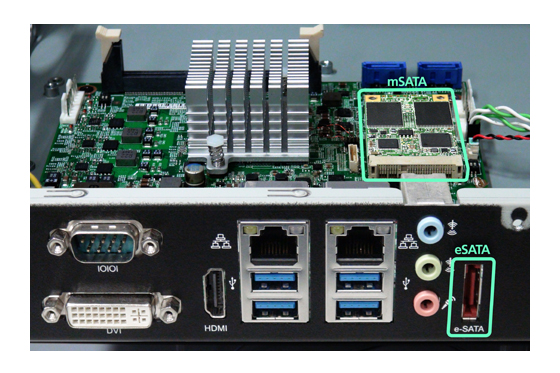 Corresponding to larger storage demands driven by 4K resolution, the NViS 1410 supports up to 6TB surveillance-grade storage. Furthermore, the NViS 1410 equips USB 3.0 and eSATA 3.0 ports for flexible external storage and faster speed (5 Gbit/s for USB 3.0; 6 Gbit/s for eSATA 3.0). Users can easily expand video capacity for external storage or redundancy. In addition, the NViS 1410 equips mSATA which can store 3rd party VMS, provides quick system start up and added reliability.
Main Features
Intel® Pentium® Processor N3700
1U rackmount NVR
Dual display of HDMI and VGA
mSATA & eSATA support
1 X 3.5" HDD capacity up to 6T
HEVC support
Ordering Information
NViS 1410 (P/N: TBC)
Slim Type NVR with Intel® Pentium®/ Celeron® Processors N3700 Product Family
NViS 1410C (P/N: TBC)
Slim Type NVR with Intel® Pentium®/ Celeron® Processors N3150 Product Family