NEXCOM digital signage player NDiS B322 is certified by digital signage software QL PLAYER, which is developed by one of digital signage software leader Navori. QL PLAYER offers unprecedented broadcast TV quality playback on multi-screens driven by thin client platform. When working with digital signage player NDiS B322, users can present the compelling and smooth quality of digital signage content. Meanwhile, NEXCOM NDiS B322 offers excellent value for money to cost-sensitive independent retailers and small-and-medium enterprises.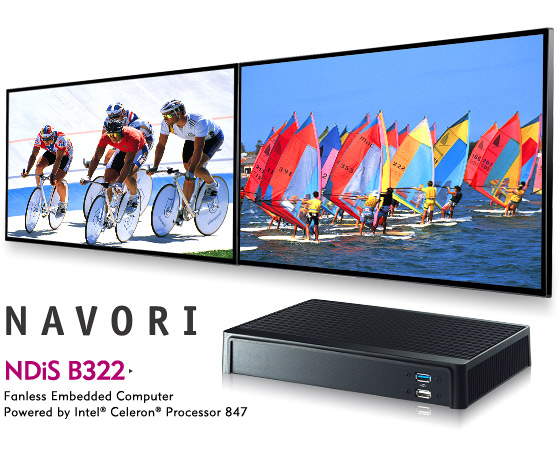 QL PLAYER is a digital signage playback engine. Featuring impressive graphic performance, NEXCOM NDiS B322 and Navori QL PLAYER can support pre-scheduled or triggered on-demand content for a broad range of market applications. In addition, QL PLAYER can support a wide range of media formats, such as flash, video, audio, streaming, images, html, PowerPoint etc. under Windows and Android operation systems. QL PLAYER has been deployed by over eighty countries for quick-service restaurant chains, hotels, malls, banks, universities, and airports etc.
NDiS B322 is based on Intel® Celeron® Processor 847 integrated with Intel® HD Graphics and supports up to 8GB system memory. Supportive of a wide variety of operating systems, the B322 can drive two displays via HDMI and VGA ports without the need of a separate graphics card. Industrial-leading USB 3.0 is also incorporated as standard for fast content update and system upgrade.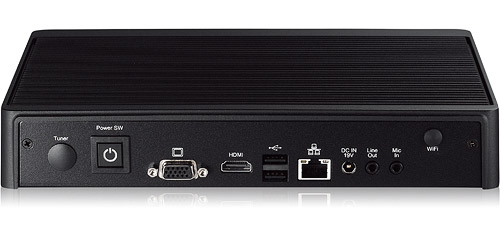 With support for a diverse variety of OS options including open resource Linux and Microsoft's Windows®, the B322 allows users to select between Ubuntu 12.04, Fedora 17, Windows® Embedded and even Windows® 8. The B322 is encased in a compact and fanless chassis which ensures dust-free and reliable long-term operation with low maintenance.
Main Features
Intel® Celeron® Processors 847
Intel® HD Graphics
Low power consumption
Compact and fanless
USB3.0 Support
Optional Wi-Fi, serial port, TV Tuner, AV input
About Navori
Navori Digital Signage is an enterprise committed to providing the most reliable, user friendly software application available in the industry. On a global level, with over 15 years of experience, the Navori platform has been built with everyone in mind and has been made accessible through a standardized product. Headquartered in Switzerland, Navori operates sales and support offices in North and South America, Australia, New Zealand, and Saudi Arabia.