NEXCOM mobile surveillance system MVS 5603 series accomplishes operational efficiency of public transportation and service. Based on the 6th generation Intel® Core™ processors, the MVS 5603 series provides an integral solution incorporating high computing power, 8-port PoE switch functions for effortless configuration, wireless communication, and GPS tracking with optional Dead Reckoning (DR) support to record in-vehicle activities, locations, high quality videos, driving patterns, and diagnostics for a variety of vehicles achieving better measures for safety and management.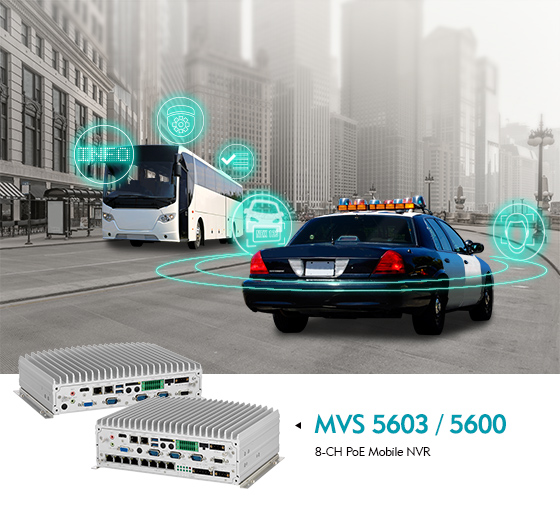 The MVS 5603 enables an intelligent transportation service by integrating the mobile surveillance system, the passenger information system (PIS), and the vehicle terminal into one device requiring a single installation. PoE ports simplify installation and replacement of cameras with automatic IP address configuration, providing video security surveillance to cover every angle of the vehicle enhancing passenger safety and fare management. The dispatch center can also keep a record of the number of passengers at specific locations to optimize bus schedule reducing passenger waiting time, to ensure safety and offer an enriched travelling experience.
Vehicle status such as engine speed and brake condition can be assessed by using built-in CAN bus, with optional OBDII function. Data can be transmitted to monitor safe driving, fuel consumption, and predict when maintenance will be performed. The MVS 5603 provides GPS positioning, with an optional DR feature to assist when the GPS signal is unreachable. A 24-hour monitoring of vehicle status is attained by the MCU and G-sensor even during power-off state, plus the optional iButton to identify drivers and keep a detailed record of the personnel.
The mobile surveillance system's high graphics power allows video analysis to deliver face recognition together with automobile license plate recognition (ALPR) for the public service sector. Police patrols can store high-definition quality video evidence captured from cameras attached to the MVS 5603 to obtain a 360-degree view of the interior and exterior of the vehicle to produce image and audio documentation, especially given an aggression or a chase situation.
Pursuing sufficiency and stability in power supply to ensure data storage and transmission, an optional internal back-up battery pack is available. Adding to this, the fanless design secures operation regardless the environment. Moreover, the new implementation of a reset and power buttons help drivers overcome any peculiar circumstance that requires a fresh start without involving the ignition system.
The mobile surveillance system MVS 5603 series delivers two PoE-equipped models based on the Intel® Core™ i3-6100U and i7-6600U processors, the MVS 5603-3C8SK and MVS 5603-7C8SK. Variants available without the 8-port feature are MVS 5600-3BK and MVS 5600-7BK. For more application-specific functions, the modular design of the MVS 5603 and MVS 5600 allow customization of I/O or function expansion.
Main Features
Intel® Core™ i7-6600U/i3-6100U
8x 10/100/1000 Mbps 802.3af PoE ports, total 60W
Three SIM cards + dual WWAN modules support
Voice communication via WWAN Built-in u-blox NEO-M8N module, optional Dead Reckoning support
Built-in CAN 2.0B. Optional OBDII function (SAE J1939/J1708)
iButton for driver ID identification
Wake on RTC/SMS via WWAN module
Modular design for flexible I/O expansion
Ordering Information
MVS 5603-3C8SK (P/N: 10VS0560301X0)
6th generation Intel® Core™ i3-6100U processor, 2.3GHz, 2GB DDR3L industrial grade SO-DIMM, 8x 10/100/1000 PoE, 2x 10/100/1000 Ethernet, VGA/HDMI output, 2x RS232, 1x RS-232/422/485, 4x USB, 12VDC output, 1x CAN
MVS 5603-7C8SK (P/N: 10VS0560300X0)
6th generation Intel® Core™ i7-6600U processor, 2.6GHz, 2GB DDR3L industrial grade SO-DIMM, 8x 10/100/1000 PoE, 2x 10/100/1000 Ethernet, VGA/HDMI output, 2x RS232, 1x RS-232/422/485, 4x USB, 12VDC output, 1x CAN
MVS 5600-3BK (P/N: 10VS0560001X0)
6th generation Intel® Core™ i3-6100U processor, 2.3GHz, 2GB DDR3L industrial grade SO-DIMM, 2x 10/100/1000 Ethernet, VGA/HDMI output, 2x RS232, 1x RS-232/422/485, 4x USB, 12VDC output, 1x CAN
MVS 5600-7BK (P/N: 10VS0560000X0)
6th generation Intel® Core™ i7-6600U processor, 2.6GHz, 2GB DDR3L industrial grade SO-DIMM, 2x 10/100/1000 Ethernet, VGA/HDMI output, 2x RS232, 1x RS-232/422/485, 4x USB, 12VDC output, 1x CAN