NEXCOM is ushering in the future of in-vehicle AI edge computing with the ATC 8010 AI edge in-vehicle computer. Leveraging an Intel® Core™ i7 processor, 8 ports PoE, NVIDIA® 1050Ti/1080 GPU, and Intel® Movidius™ MA2485 VPU, implementing an in-vehicle AI edge computer system is now quicker and less complex than ever before. Developed in collaboration with technology partners Intel® and NVIDIA®, system integrators can confidently harness advancements in AI edge computing to roll out new, more powerful systems with cutting edge features, in less time than ever. The ATC 8010 AI edge in-vehicle computer is specially designed for public security applications such as patrol cars with ANPR, facial recognition, and video surveillance. The ATC 8010 AI edge in-vehicle computer can also be used for autonomous driving UGV and AGV applications. Military and smart transportation are also supported.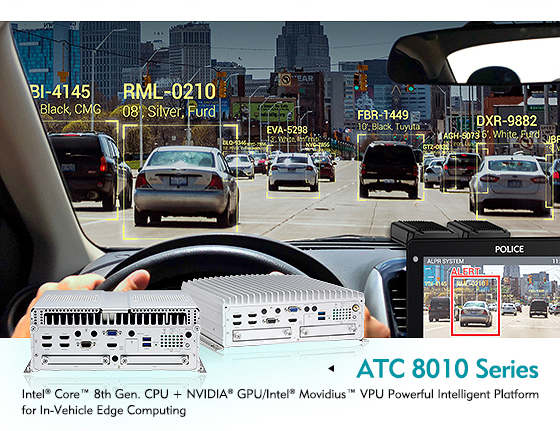 Overcoming In-vehicle PC Constraints
Several constraints have hampered the capability of current systems to utilize edge computing technologies. Firstly, in-vehicle embedded systems use low-power, fanless designs, which on the one hand, increase reliability, but on the other hand, reduce the computing power essential for complex AI edge computing applications. Secondly, video surveillance advances have already exhausted the capabilities of 1Gb PoE and need more bandwidth to achieve real-time video analysis. Thirdly, beyond the bandwidth limitations and mediocre power, is the lack of graphics processing capabilities vital for any video processing application. Finally, although PoE has made camera installation much more straightforward, the connections between the computer and the display remain a tangle of cables. The NEXCOM ATC 8010 embraces both new standards and proprietary innovations to eliminate many of these issues with the adoption of fast 8th and 9th generation Intel® processors, higher speed 10Gb PoE (optional), heavy graphics capable GPUs, and a proprietary video cable connection for nearly-real-time AI edge computing capabilities.
High-powered Graphics
The ATC 8010 supports the NVIDIA® 1050Ti/1080 GPU and Intel® Movidius™ MA2485 VPU. A dedicated graphics card is the optimum solution for processing incoming video data, but with the additional wear and tear imposed by the constant vibration in a moving vehicle, standard graphics solutions don't stand up so well. The typical PCIe x16 slot was never really designed for in-vehicle applications, and even with modifications, its design is still inherently sensitive to vibration and shock. The ATC 8010 system adopts the MXM module design for maximum security and reliability in these conditions. This design opens the gates to integrating powerful GPU technology without sacrificing reliability to do so. Since the interface utilizes the MXM interface, it's easy to upgrade when new MXM graphics modules, based on the latest GPUs, are released.
Reliable Fanless and Smart Fan Solutions
NEXCOM provides a fanless and smart fan version of the ATC 8010. The fanless version supports the NVIDIA® 1050Ti and Intel® Movidius™ MA2485 VPUs. For more powerful graphics options there is a downside, and that is the heat produced by the more powerful central processor and graphics processor. In more simple applications a fanless design is preferred, and this eliminates the need for a fan. However, when graphics processing power is critical, another approach must be taken. For the ATC 8010, a new patented design was created that harnesses smart fan technology. The main system is still entirely enclosed, as with fanless designs, but the smart fan module is connected to the outside, providing air flow across the external cooling fins to whisk away the heat. Fans are still a mechanical part prone to failure, but the smart fan automatically regulates the speed of the fans according to the system temperature, optimizing the use of the fan and maximizing MTBF. Based on different application requirements.
Eight Independent PoE Ports and Optional 10 Gb PoE
ATC 8010 features eight independent 802.3af/at PoE LAN ports built on Intel® I210-IT Ethernet controllers. This unified system design eliminates the need for additional LAN connections through an external LAN switch. With on-board PoE ports, system installation and integration is easier, and maintenance costs are lower. An additional option is 10 Gb PoE. The wide adoption of PoE has already expedited installation of digital cameras, but slow network speeds are still a hurdle to AI applications because the bandwidth limitations force video compression at the camera end, followed by video decompression on the system end. Constant compression/decompression imposes a significant overhead on system resources, which instead of being put to use in AI applications and video analysis, become drained by the task of decompressing video, not to mention that time lost performing these extra steps. Gigabit Ethernet has helped, however, for AI edge computing, where uncompressed video data transfer is required, the 1Gb data transfer limit is quickly exhausted. The ATC 8010 solves this with optional 10Gb PoE, allowing for true raw digital data transfer from all the IP cameras. This lightning-quick data transfer is critical for data-heavy AI edge computing applications.
ultraONE+ Ten Meter Display Connection
PoE may have simplified camera installation, but the connection from the computer to the display still requires many cables. Messy tangles of wires are difficult to install and each additional cable introduces a new weak point, reducing overall reliability. The proprietary ultraONE+ cable is the solution to this, combining video, audio, power, and USB into a single cable of up to 10 meters. A single cable, with a single secure connection at each end, for a tightly integrated system. The ultraONE+ is easily paired with the VMD 2003 display also available from NEXCOM.
The ATC 8010 AI edge in-vehicle computer has crushed the constraints of legacy systems and opens the doors to powerful AI capabilities at the computing edge making it the perfect choice for installations that seek to harness the power of in-vehicle AI edge computing.
Main Features
Model Name

ATC 8010-7A/AF/DF

ATC 8010-7B

CPU

Inte® Core™ 8th Gen. i7-8700T, 2.4GHz, 6 Core

GPU

NVIDIA® GTX 1050Ti/1080 MXM graphic module supported

Intel® Myriad™ X MA2485 MXM VPU module supported

Fan

Fanless design
(ATC 8010-7A)

Fanless design

Swappable smart fan kit
(ATC 8010-7AF/DF)

Power over Ethernet

8 x Independent I210-IT 10/100/1000 PoE 802.3af/at

Backup battery

Built-in style backup batteries (by request)

Video + audio output

ultraONE+ for 10-Meter video + audio output

Storage

2 x External SSD and 2 x mSATA for RAID 0, 1, 5, 10

Communication

2 x WWAN module and 3 x SIM socket with eSIM option

Expansion

3 x mini-PCIe and 1 x M.2

Certifications

CE/FCC/E mark
Ordering Information
ATC 8010-7A (P/N: 10AT0801004X0)
Fanless design. Intel® Core™ 8th Gen. i7-8700T processors, 8GB industrial grade memory, NVIDIA® GeForce® GTX 1050Ti, 8 x PoE 802.3af/at, 3 x mini-PCIe, 1 x M.2, 3 x SIM
ATC 8010-7AF (P/N: 10AT0801000X0)
With swappable smart fan kit. Intel® Core™ 8th Gen. i7-8700T processors, 8GB industrial grade memory, NVIDIA® GeForce® GTX 1050Ti, 8 x PoE 802.3af/at, 3 x mini-PCIe, 1 x M.2, 3 x SIM
ATC 8010-7DF (P/N: 10AT0801001X0)
With swappable smart fan kit. Intel® Core™ 8th Gen. i7-8700T processors, 8GB industrial grade memory, NVIDIA® GeForce® GTX 1080, 8 x PoE 802.3af/at, 3 x mini-PCIe, 1 x M.2, 3 x SIM
ATC 8010-7B (P/N: 10AT0801003X0)
Fanless design. Intel® Core™ 8th Gen. i7-8700T processors, AIBooster-M8-MXM, 8GB industrial grade memory, 8 x PoE 802.3af/at, 3 x mini-PCIe, 1 x M.2, 3 x SIM