NSA 3130 is a compact 1U network communication platform intended for an increasingly cost sensitive marketplace. NSA 3130 is available in a wide selection of processors, supporting up to the latest Intel® Xeon® Processor E3-1200v2 series. It has sufficient service density of eight LAN ports, with each providing 10/100/1000 Mps network access and configurable LAN bypass feature. For even greater power and speed, users can always turn to the expansion slot to add supplementary functions. Therefore, NSA 3130 is an ideal piece of network platform for enterprises of all sizes.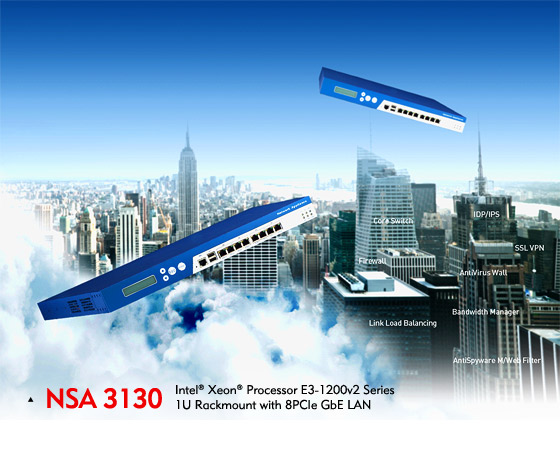 NSA 3130 supports a wide spectrum of processors, from the latest Intel® Xeon® processor E3-1200v2 series, high-end 2nd generation Intel® Core™, Intel® Pentium®, to legacy Intel® Celeron® processors and DDR3 1066/1333 MHz memory up to 8GB. This platform incorporates Intel® 82583V GbE controller and supports multi-speed connection of 10/100/1000 Mps.
NSA 3130 has eight GbE LAN ports to execute networking processing for the same amount of connected devices. Otherwise, it can be configured to provide four pairs of LAN bypass to ensure continuous network communication in case of single point of failure. Firewall, VPN, intrusion detection and prevention, and unified treatment management are all ideal use cases of NSA 3130.
For the purposes of performance acceleration and supplementary functions, the PCIe x8 slot located at the rear of the network communication platform is available for assorted add-in cards. Functions such as packet classification, compression and decompression, or encryption and decryption can be added in this manner for network security reasons. As to other peripheral devices, one CFast socket or one CompactFlash socket are intended for storage units.
All above features of NSA 3130 are encased in a 1U rackmount chassis, which is so compact that it allows enterprises of all sizes to harness the power of network while use office space wisely.
Target Application
Firewall
VPN
Intrusion Detection and Prevention
Unified Treatment Management
Features
1U Rackmount Network Platform
Intel® Xeon® Processor E3-1200v2 Series
Support DDR3 1066/1333 Memory, up to 8GB
8 x GbE LAN Ports
Support One PCIe x8 Expansion
Internal One 3.5" HDD Bay/ Two 2.5" HDD Bay (Optional)
Ordering Information
Barebone NSA 3130 (P/N: 10S00313000X1)
Support Intel® Xeon® Processor E3-1200v2 Series, 2 DDR3 memory slots, 8 PCIe GbE LAN ports, CompactFlash socket, CFast socket ,USB ports, VGA port, one PCIe x8 expansion slot, w/o LCM