NEXCOM nTUF 610 is one tough fanless marine computer designed to sail through the infinite sea to success. nTUF 610 powered by the 2nd generation Intel® Core™ i7-2610UE processor is packed with superb graphics and computing performance for multitasking environments. Compliant with IEC60945, IACS-E10 and DNV 2.4 standards, nTUF 610 can meet the requirements of most environmental and electromagnetic challenges. For reliable signal transmission, electronic wires are connected with sturdy bolted joints and therefore perform impeccably on the command bridge. The mechanical design of nTUF 610 makes for quick setup and easy maintenance and is therefore perfect for a wide variety of marine applications onboard ferries, leisure craft, fishing vessels, cruise ships and freight vessels.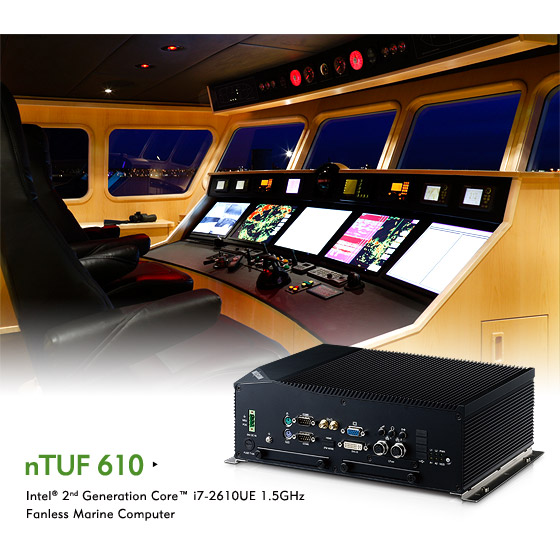 Superb Graphics
NEXCOM fanless marine computer nTUF 610 is based on the 2nd generation Intel® Core™ i7-2610UE processor paired with Intel® QM67 Express Chipset. In addition, the integrated Intel® HD Graphics 3000 and Intel® Turbo Boost Technology give nTUF 610 outstanding computing powers and superb graphics performance enabling the unit to address diverse range of applications. With the capacity to handle dual independent display, nTUF 610 is perfect for ECDIS, voyage data recording, and machinery monitoring.
Steady Operation
Fanless marine computer nTUF 610 compliant with IEC 60945, IACS-E10 and DNV 2.4 standards aspires to ensure smooth operation at sea, where computer reliability is at issue. To counter tough challenges on the rough sea, fanless nTUF 610 not only is impervious to water, salt mist and dust particles; it can directly dissipate heat and resist shock and vibrations. The fanless marine computer can also adapt to temperature changes from -25°C to 55°C (-13°F ~ 131°F). As regards electromagnetic compatibility, 1.5KV isolation protection is applied to 24V DC input to reduce electromagnetic disturbances and enable the nTUF 610 to work properly at the bridge of a ship.
Sturdy Connection
This fanless marine computer is equipped with versatile I/O options. Four NMEA 0183 ports protected by 2KV optical isolation design enable easy yet noise-free connection with assorted marine electronics, such as ECDIS, GPS, AIS, Gyro, Radar and Rudder Angle Indicator. Four channels of Digital Input and Digital Output with 36V DC / 100mA relay design are reliable alarm triggers in case of emergency.
nTUF 610 also provides M12 GbE LAN ports for network connection and LAN teaming, VGA and DVI-D outputs for display, PS/2 connectors for keyboard and trackball, CFast socket and SSD drive bays for data storage, and USB and DB9 RS-232 ports for touch interface or others. Except NMEA and DI/DO ports, the rest are aligned on the front side of nTUF 610 and can be securely connected, irrespective to weather conditions.
Simply Installation and Maintenance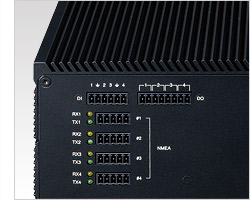 With a view to quick setup, 2G DDR3 memory module is installed, and all interfaces are located on the front panel. For users preferring turnkey solutions, nTUF 610 can be further installed with Windows XP Embedded / Windows Embedded 7 operation system and optional 2.5" SSD. Otherwise, the front accessible CFast and SSD bays will provide the convenience of installation. The nTUF610 fanless chassis which deters external intrusion can maximize uptime and lower frequency of post-installation maintenance.
Target Application
Ferry
Cruise liner
Freighter
Powerboat
Sailing ship
Fishing vessel
Main Features
On-board 2nd Generation Intel® Core™ i7-2610UE at 1.5 GHz
4x USB ports
Dual M12 connector for Intel® 82574L GbE LAN ports
1x VGA, 1x DVI-D display output
2x RS232
2x PS/2 for keyboard and mouse
1x external CFast socket
1x mini-PCIe with two antenna holes
Support +24V DC power input with 1.5KV isolation protection
Dual Cold Swappable 2.5" SSD tray
Supports ATX power mode, WoL, LAN teaming and PXE function
Ordering Information
nTUF 610 (P/N: 10M00061000X2)
Intel® 2nd generation Core™ i7-2610UE 1.5GHz Fanless Marine Computer with 2G DDR3 memory installed.
nTUF 600 (P/N: 10M00060000X2)
Intel® Atom™ Dual Core D525Fanless Marine Computerwith 2G DDR2 memory installed.