NEXCOM has released a new Computer-On-Module, ICES 251X, based on PICMG COM.0 Rev. 1.0 specification. ICES 251X is a COM Express Type 2 pin-out, compact module that features the Intel® Atom™ N450 1.66GHz CPU with ICH8M Chipset.
ICES 251X is an in-house designed module that supports operating temperatures ranging from -40°C to 85°C. This extended temperature computer provides outstanding performance in the combination of high computing performance and low thermal dissipation.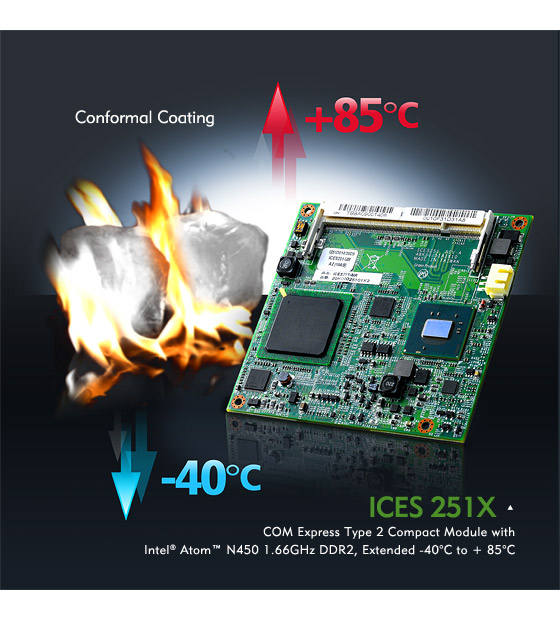 The ICES 251X COM Express module supports DDR2 667 SO-DIMM memory up to 2GB, and provides 3x SATA, 1x IDE, 8x USB2.0 for fast peripherals. The Computer-On-Module also supports 5 Express lanes, 32-bit PCI interface, one IDE and Gigabit LAN. NEXCOM offers a series of industrial grade embedded boards for extended temperature solutions which can function well in extreme environments.
NEXCOM's Computer-On-Module ICES 251X, is designed with extreme flexibility in mind. To address unique applications, NEXCOM's COM Competence Center (CCC) offers customization service for its Computer-On-Modules. Every module can be specifically pioneered to complement customer-specific carrier boards, their existing carrier boards or NEXCOM's customized carrier boards. NEXCOM's CCC strives to meet all customer requirements and their unique application needs via its customization services.
NEXCOM's extended temperature computer is specifically designed to address a wide variety of rugged and industrial applications, such as gaming and medical applications, outdoor signage applications, factory automation, industrial automation and transportation automation.
Conformal Coating/De-Flux Cleaning Service
ICES 251X may operate more than often in hostile environments. NEXCOM offers further protection with de-flux cleaning/ conformal coating service, your embedded application will be protected against possible intrusions of humidity, dust, and temper mechanical vibrations that might stress electronic circuits.
Main Features
COM Express Type 2 pin-out, Compact Module
Embedded Intel® Atom™ N450 1.66GHz Processor
Support DDR2 667 SO-DIMM up to 2GB
Intel® ICH8M Chipset
Support 3x SATA, 1x IDE, 8x USB2.0, up to 5x PCIe lanes
32 bit PCI Interface and One IDE and Gigabit LAN
Support Extended Operating Temperature - 40°C to + 85°C
Conformal coating/ De-Flux cleaning service compliant with IPC-A 610
Ordering Information
ICES 251X (P/N: 10K00025102X0)
COM Express Type 2 Compact Module Extended -40°C to + 85°C and conformal coating with Intel® Atom™ N450 1.66GHz DDR2/ PCIe/ PCI/ IDE/ GbE/ LVDS/ audio interface
ICEB 8050 (P/N: 10KB0805000X0)
COM Express Type 2 evaluation board with PCIe/ PCI/ SATA/ CF/ IDE/ COM/ USB/ LVDS/ VGA/ LAN