NEXCOM intelligent kiosk IKS series embodies supreme flexibility in a modular design that expands the realms of self-service markets. Featuring the 6th generation of Intel® Core™ and Celeron® processors, the IKS series represents a total solution for self-service applications conveying high performance, multiple displays, and extended connectivity to seamlessly handle registration, payment, documentation, alerts, networking, and analytics, elevating users' satisfaction and ensuring an enjoyable experience.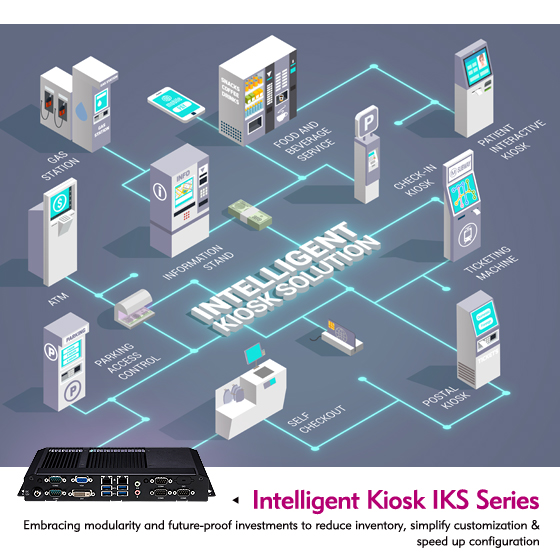 The modular design of the intelligent kiosk series embodies flexibility with the IKS 621A, IKS 614A, and IKS 614B. Embracing modularity and future-proof investments, every model in the series retains the same chassis while allowing users to select a mini-ITX motherboard and I/O bracket to be assembled locally for their projects, reducing inventory, simplifying customization, and speeding up configuration. Offering different levels of connectivity and diverse display interfaces, the first three initial models carry style and thermal endurance in a fanless, compact, and slim form factor that fits into a variety of scenarios.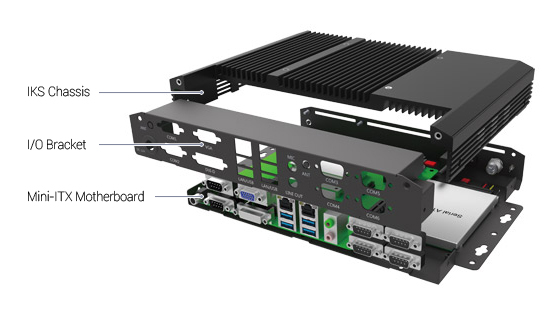 The intelligent kiosks spark the self-service experience to facilitate processes regardless the application. For instance, to bring self-parking to life, the IKS series is connected to motion sensors to detect vehicles approaching the entrance in order to control the lights, greet customers, deliver differentiated tokens, grant access, remind of promotions, and keep a video record for safety measures. Attached to a touchscreen display in smart stores, the IKS series helps users through registration and checkout by reading barcodes, QR codes, and RFID tags, accepting cash or card payments, printing receipts and providing vouchers. In venues with large crowds, self-service information stands enhance users' satisfaction giving directions, retrieving reservations, and displaying smart advertisement based on demographic analysis to boost business opportunities.
The first three family members of the intelligent kiosks IKS series bring smartness to tackle clients' needs. Considering implementation challenges of self-service businesses, the IKS 614B packs high performance for computing-intensive applications and the IKS 614A is characterized by rich connectivity, while the entry-level IKS 621A represents a fair balance between performance and connectivity.
Main Features
Model Name

IKS 621A-N3060

IKS 614A-3955U

IKS 614B

Processor

Intel® Celeron®
N3060 processor

6th Gen. Intel® Core™
i7/i5/i3 Celeron®
processors

6th Gen. Intel® Core™ i7/i5/i3, LGA1151 socket processor, Max. 35W TDP

Memory
Support one DDR3L
SO-DOMM, up to 8GB
Support two DDR4
SO-DIMM, up to 32GB
Support two DDR4
SO-DIMM, up to 32GB

Display Output

VGA, DVI-D

DP, HDMI

Dual HDMI

LAN

2

USB

4x USB 3.0, 1x USB 2.0

COM

5

4

2

Expansion

F/S mini-PCIe, M.2 (M key)

mini-PCIe, M.2 (M key)

F/S mSATA, H/S mini-PCIe

Ordering information

10IK0062100X0

10IK0061400X0

10IK0062100X0